Qingdao surgeon devotes career to rural medical education
By Xie Chuanjiao in Qingdao ( China Daily )
Updated: 2015-09-08
| | | | | | | | | |
| --- | --- | --- | --- | --- | --- | --- | --- | --- |
|   | | Print | | Mail | | Large Medium  Small | | 0 |
From beginnings in small rural hospital, surgeon built network of physician exchanges
In 2009, a renowned Tibetan living Buddha from western China's Sichuan province traveled to Qingdao so Doctor Lu Yun could perform laparoscopic surgery to remove his gallbladder.
Then a surgeon at the Affiliated Hospital of Qingdao University, Lu learned that his patient could not receive such an operation in underdeveloped southwest China, including parts of the Tibet autonomous region, as well as Sichuan and Guizhou provinces.
The patient, Pema Chentse of Garze county, said the medical equipment at the local hospitals was obsolete and the medical staff was insufficient. While outstanding doctors visited occasionally from eastern China to provide support, their stays never lasted long.
Lu decided to make a difference. Over the next six years, while becoming a pre-eminent physician, professor and head of general surgery at the Qingdao hospital's Huangdao branch, Lu advocated for medical development in remote areas of China.
He also built a network of medical exchange between remote China and the world.
On April 1, the Qingdao hospital welcomed 17 doctors from six hospitals in Xigaze, Tibet, for six months of training. Lu personally trained two of the students.
Tashi Lhamo, a Tibetan surgeon from Sangzhuzi District Hospital in Xigaze, said she deeply appreciated the training program Lu developed.
"It is because of Doctor Lu that I get to know what damage control surgery and laparoscopic surgery are," she said. "I must learn hard to bring such advanced medical technology back to Xigaze to save more patients in Tibet."
In June, Lu attended the annual surgical meeting of the American Society of Colon and Rectal Surgeons. After returning from the United States, he told his Tibetan students about the latest advances he learned of there.
E Fusheng, a Tu ethnic surgeon from the Xigaze Hospital, said he admired Lu's dedication to work and teaching.
"Lu was so enthusiastic to update us on the pioneering medical technologies he learned at the meeting even before he recovered from the jet lag. I am really grateful for what he has done for us," he said.
Today, there are many international exchange programs at the Qingdao hospital. As part of the training, Lu introduces traditional Chinese medicine to doctors visiting from across the globe.
Martin Duncan, a US medical student, said he was amazed that Chinese patients who have intestinal obstructions after surgery could recover more quickly with a mix of herbal medicine and acupuncture therapy.
"It is a difficult problem for doctors to deal with in the West, but it could be solved in this way in China which is quite impressive," he said.
Duncan and his girlfriend, Amy Wang, met Lu in 2010 when Lu was a visiting scholar at the University of Texas Health Science Center in Houston, Texas.
Duncan and Wang then followed Lu to Qingdao for internships. Later, their school friends, Jane Zhao and Kathy Rutledge, did the same. Now this internship has become a regular exchange program between the Qingdao hospital and the Houston hospital.
Rutledge said the US students were impressed by the facilities at the hospital's Huangdao branch, which is in a newly developed area in the city.
"I could never imagine the Chinese government could spend $300 million to build such a nice hospital within a very limited time frame," she said.
The Huangdao branch hospital opened in 2011. More than 16,000 operations are performed annually at the hospital, including more than a thousand operations in Lu's general surgical department.
The hospital also welcomes many medical students from different countries that are part of China's Belt and Road Initiative, including India, Pakistan, Myanmar and Nepal.
Srijud Urachat, of Thailand, said Lu's instruction not only imparts advanced medical knowledge, "but also opens a window for us to see another world".
Lu and his team are on the forefront of medical research and development. They were the first team in the region to conduct a type of endoscopic microsurgery that significantly increases the postoperative quality of life for patients with intestinal tumors.
He also partnered with the Hisense Group, a State-owned electronics enterprise, to develop a computer-assisted surgery system that has been widely used in area clinics.
Those who meet Lu may be surprised to learn he started his career in a small rural hospital. "I used to treat patients in the field, like a real 'barefoot doctor'," Lu said.
He continued his studies and received a master's degree and a doctorate from Xi'an Medical University before coming to Qingdao. He also studied at Severance Hospital of Yonsei University in 2005 and at the Houston hospital for seven months in 2010.
As one of the largest medical centers in the world, the Houston hospital is affiliated with more than 10 top-notch medical institutions in Texas, including MD Anderson Cancer Center, Hermann Memorial Hospital and the Texas Heart Institute.
Lu often worked more than 12 hours each day during his time in the US.
"In the morning, I would go to Hermann to observe its laparoscopic operation and robotic surgery, and then I'd attend a seminar at MD Anderson at noon, and finally I would get to review and digest all the materials later in the afternoon and night," Lu said.
Those exchanges broadened his view and improved his medical expertise, but mostly, he said, it helped him save more lives.
"Through my own experience, I realize building a bridge for China with the world, as well as deeper connection between developed and underdeveloped regions in China is so important for medical development. And only in this way can doctors in the world help relieve more patients from miserable diseases, no matter whether they are in a megacity or in the slums of an impoverished area," he said.
xiechuanjiao@chinadaily.com.cn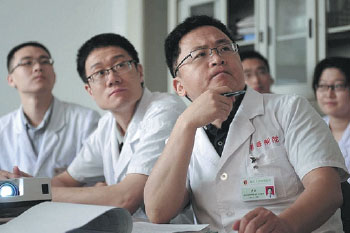 Lu Yun (right front) and his team study the laparoscopic operation for a rectal cancer patient at the Huangdao Branch of the Affiliated Hospital of Qingdao University in Qingdao, Shandong province, last summer. Provided to China Daily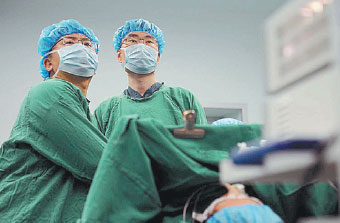 During a laparoscopic surgery last year, Lu Yun and a colleague check their progress. Provided to China Daily
(China Daily 08/06/2015 page7)