Lush 'mooh' echoes from Swiss Alps to Qingdao
( China Daily )
Updated: 2015-01-21
| | | | | | | | | |
| --- | --- | --- | --- | --- | --- | --- | --- | --- |
|   | | Print | | Mail | | Large Medium  Small | | 0 |
Rolling hills, lush green meadows, crystal clear lakes, snow-capped mountains and crisp clean air frame the land where the happiest cows in the world graze. Switzerland is world renowned for its dairy industry. In fact, Swiss cows have the highest grass-to-feed ratio in all of Europe, and typically live three times longer than cows in the US. Furthermore, the use of hormones is strictly banned in the country.
Recognizing growing demand in China that goes hand in hand with Swiss products' solid reputation in the country, the association of Swiss dairy farmers (Nordostmilch) - through its dedicated brand for international products "Swissmooh" - identified Qingdao as the starting point for its brand awareness campaign and expansion.
"In China, It is important for us to generate trust by informing our customers that our products are produced entirely in Switzerland under the highest quality standards and that we control the entire value chain," said Rene Schwager, managing director of Swissmooh.
In May 2013 Swissmooh launched its first flagship store in the country at Marina City Shopping Mall, a high-end shopping complex in Qingdao A second store in Qingdao was launched in January this year and premium Swissmooh dairy products can also be purchased throughout China through the online Tmall flagship store and on other Chinese e-commerce websites.
"We want to be in the best shopping malls to be able to properly introduce our products and what it means to be 'Swiss'," said Schwager. "Our people are trained to be able to educate consumers on the variety of cheeses we offer such as fondue, raclette and emmental, which are already quite popular amongst Chinese."
With this vision to expand its Chinese presence with more flagship stores promoting Swissmooh dairy products, the recent free trade agreement between the countries has certainly come at the right time for the Swiss exporting company. "We've already profited from the FTA, and we anticipate that it will help us even further in the future as we develop our business in China," said Schwager.
www.swissmooh.ch
www.swissmooh.com.cn
swissmooh.tmall.com
World Eye Reports provided the story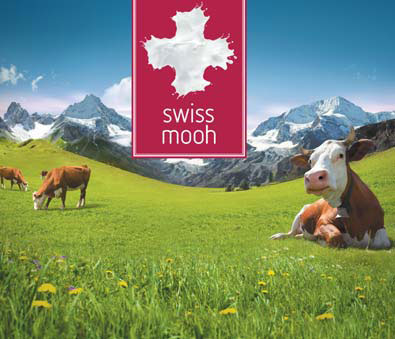 Picturesque Switzerland is home to the "happiest cows". Provided to China Daily