Ningbo attracts more international students
Updated :2016-01-08
(insightningbo.com)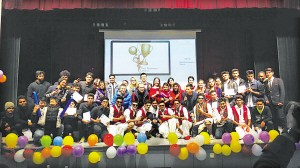 Negar Kordi, a half-Iranian and half-Canadian girl, had 90,000 followers on zhihu.com within only one week after registration for her 'native-level' in Chinese language and her deep love to China though she has traveled to more than 20 countries around the world.
Nicknamed as Lanlan, she has studied in Ningbo for five years. Now she is a senior student majoring in Business Chinese at Ningbo University and married to a Chinese.
There are many more international students like Lanlan in Ningbo. They not only study here but 'do as Romans do' as they volunteer to teach English to local students or provide healthcare tips and suggestions to residents in local communities.
Since Ningbo University admitted the city's first international student in 1996, 4,016 international students from over 110 countries and regions, with half being degree-seeking students, have studied in Ningbo by the end of last year. Ningbo becomes the fastest growing city in the admission of international students in Zhejiang Province.
Many local universities and colleges have set up courses or majors taught in English. By now, there are over 10 such undergraduate majors and five postgraduate majors. The University of Nottingham, Ningbo attracted around 800 degree-seeking international students in 2015 alone for its official teaching language in English. Courses on Chinese language and culture are available in many colleges and welcomed by foreign students.
Apart from scholarships set up by each university, the Ningbo city government has provided different kinds of scholarships since 2011. More than 1,150 international students have been granted the government's scholarships totaling 18 million yuan (US$2.7million).
There are eight local companies authorized as the city's official internship base for international students, along with another 80 companies signed up for providing internship opportunities. Every year, more than 500 international students complete their internship in Ningbo.
The Ningbo International Students Festival has attracted more than 2,000 overseas students to Ningbo for cultural exchanges in the past years. During the 13th Five-Year Plan, the city aims to have about 10,000 international students studying in Ningbo every year.