Ningbo Port
( insightningbo.com )
Updated: 2015-12-23
| | | | | | | | | |
| --- | --- | --- | --- | --- | --- | --- | --- | --- |
|   | | Print | | Mail | | Large Medium  Small | | 0 |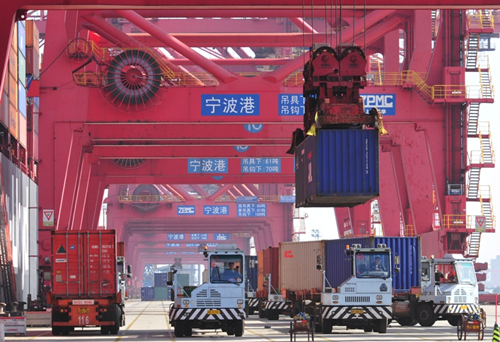 World-class Port with a Long History
Ningbo Port is one of the most ancient ports in China. As early as 7,000 years ago, the ancestors of Ningbo cultivated Hemudu culture and the embryo of Ningbo Port was formed. In 752 A.D., three envoy vessels from Japan called at Ningbo Port, which started Ningbo Port's more than 1200-year history of opening up.
Ningbo Port enjoys the most advantageous geographical location among Chinese ports and is also a major port of calling for international shipping lines.
In 2013, cargo tonnage of Ningbo Port exceeded 496 million tons, ranking third on the Chinese mainland and fourth in the world; container volume surpassed 16.774 million TEUs, ranking third and sixth on the Chinese mainland and in the world respectively.
A Unique Natural Deep-water Port
Ningbo Port is a rare deep-water superior port in the world located in the middle of the coastline of the Chinese mainland, close to the T-shape intersection of the Yangtze River and the coastline. Sheltered from strong winds and waves by Zhoushan Islands, Ningbo Port enjoys enormous natural advantages such as deep water, a mild current and small waves; it is ice-free, silt-free and a vast harbor land area. Vessels below 300,000 DWT can navigate into and out of the harbor freely, vessels above 400,000 DWT can come in and out with the tide. Among all the ports on the Chinese mainland, Ningbo Port accommodates the largest number of super-large vessels with 100,000-odd DWT.
Ningbo Port consists of Yongjiang port area, Zhenhai port area, Beilun port area, Daxie port area, Chuanshan port area and Meishan port area, covering inland ports, estuary harbors and seaports. It is a multi-functional modern port with a complete range of berths. At present, along the lengthy golden shore, Ningbo Port owns more than 330 operational berths, among which the number of large deep-water berths of over 10,000-DWT amounts to 99 and those above 50,000-DWT 63, outperforming its counterparts nationwide.
World-Class Terminal Facilities
With the aim to be first-class in the world, Ningbo Port will fully leverage its unique natural advantages and develop deep-water, large, specialized and modern terminal facilities. Its goal is to build the port into a major transshipment & storage base of containers, ores, crude oil, liquid chemicals on the Chinese mainland and the base of transshipment and storage of bulk cargoes like coal and grain in east China.
Equipped with world-class container terminal facilities, Ningbo Port is capable of handling super large container vessels of 18,000-odd TEUs. On August 16th, 2013, Majestic Maersk—the largest container vessel in the world with a loading capacity of 18,000 TEUs, made its maiden voyage to Ningbo Port successfully.
Ningbo Port provides quality & efficient container services. The highest crane rate reached 235.6 boxes per hour at Ningbo Port, setting a new world record in container loading and discharging. Ningbo Port also ranked No. 1 in terms of container handling efficiency for vessels of "Daily Maersk" from Maersk Company among all the 10 container ports accommodating the "Daily Maersk" service.
With 100,000-DWT-class and 200,000-DWT-class ore transshipment terminals (Vessels of 300,000-DWT can also berth at the 200,000-DWT-class terminals), Ningbo Port is the largest iron ore transshipment port to the south of the Yangtze River. In 2013, the discharged amount of iron ore in Ningbo Port surpassed 53.32 million tons and the tonnage of iron ore exceeded 88.13million tons.
Ningbo Port is the main transshipment and storage base of coal in east China. In 2013, the coal tonnage in Ningbo Port exceeded 79.26 million tons.
Currently, with the largest 450,000-DWT crude oil terminal in China and four crude oil terminals of 250,000-300,000 DWT, Ningbo Port is the largest sea port of crude oil transshipment in China. Based on its advantages of water depth, Ningbo Port has handled the discharging of super-large oil tankers, as well as the storage and transshipment of crude oil. In 2013, the volume of crude oil discharged reached 53.86million tons. And in 2005, the 440,000-DWT vessel named "TI Europe" was discharged twice successfully at Ningbo Port, making Ningbo Port the first in Asia to berth and discharge 440,000-DWT vessels.
Ningbo Port has become the largest transshipment base of liquid chemical products in China, with 22 specialized berths of 50,000-DWT, 10,000-DWT and 3,000-DWT. In 2013, the tonnage of liquid chemical products in Ningbo Port surpassed 8.5 7million tons.
High-quality and Credible Port Services
With the mission of "building a strong port to serve China and the world", Ningbo Port has made strenuous efforts to build a multi-level port network integrating Ningbo Port and other ports in and out of Zhejiang Province. A brand new logistics system comprising ocean-going shipping, trucking, booking platforms, shipping agencies and freight forwarding services has been put in place.
Ningbo Port stays committed to putting customers first, valuing cargoes and credibility, quality service and detail orientation. We persist in providing round-the-clock berthing and un-berthing services in order to guarantee the scheduled operation of regular liners. We promise to offer regular liners with quality, safety and punctuality. Ningbo Port has been devoted to building itself into becoming a digital port, an IT-based port and a smart port that could facilitate information and data sharing among ports, shipping companies, port-related government departments, agents, tally companies, financial entities, insurance companies and inland cargo stations.
Presently, Ningbo Port has established business relations with over 600 ports from more than 100 countries and regions. The top 20 liner companies in the world all have liners calling at Ningbo Port. By the end of 2013, the number of container liners of Ningbo Port amounted to 235, including 117 main ocean-going liners. And the average number of container liners calling at Ningbo Port per month has surpassed 1,400.
Convenient Container Transportation and Distribution Network
An all-dimensional container transportation and distribution network has been established in Ningbo Port, including shipping, expressway, railway, air and pipeline transportation.
Railways at the port areas stretch to terminals directly and are linked to the main railway network of China. The railway station in Ningbo Port area is listed as one of the railway stations of container transshipment in China. The well-established highway and expressway network of Ningbo City makes the door-to-door cargo transportation more convenient. The Hangzhou Bay Cross-Sea Bridge has cut the travel time between Ningbo and Shanghai to 2 hours. And with the completion of Zhoushan Cross-Sea Bridge, the deep-water advantage of Ningbo Port has been further leveraged. The container highway of Ningbo Port has been selected as a national pilot for the Drop-and-Pull transportation model with considerable economic and social benefits.
A Port Operator Focusing on Win-Win Cooperation
Ningbo Port has maintained good cooperation with the international and domestic port and shipping communities. Ningbo Port Group Ltd. and Shanghai International Port (Group) Co.,Ltd have established an effective cooperative mechanism and enjoy win-win cooperation. Ningbo Port also succeeded in a number of joint terminal investment programs with Zhoushan Port, Taicang Port, Nanjing Port, Jiaxing Port, Wenzhou Port, Taizhou Port and so on. Ningbo Port has become strategic cooperative partners with shipping carriers like COSCO, MAERSK, MSC etc. and sister ports with 11 counterparts from 7 foreign countries, including the USA, Estonia, Poland, Brazil, Spain, Malaysia, South Korea.
Ningbo Port has stepped up the integration of industrial capital and financial capital. In July, 2010, Ningbo Port Group Financial Co., Ltd. was approved by the China Banking Regulatory Commission and put into operation. In September, 2010, Ningbo Port Co., Ltd. was successfully listed on the Shanghai Stock Exchange. An effective capital supply chain has been set up to serve, develop and enhance the main business of Ningbo Port. Meanwhile, Ningbo Port, together with Shanghai International Port (Group) Co., Ltd, have jointly set up Shanghai Port & Shipping Equity Investment Co., Ltd. and the first shipping insurance agency in China, in an effort to facilitate the development of the Shanghai International Financial Center and Shanghai International Shipping Center. In addition, Ningbo Port has set up the Ningbo Commerce Bank and acted as its biggest share holder. All these have greatly promoted the effective integration of industrial and financial capital.
A Vigorous Modern Enterprise
Ningbo Port's rapid development is attributable to a creative and dedicated workforce and a progressive and harmonious organizational culture. Since 2005, Ningbo Port has won many honors at provincial and national levels, including The Model Organization for Cooperate Culture in China, Top Innovative Enterprise in China (2009), and Top Performer in Transportation Sector.
Transformation and Upgrading
In the face of new opportunities and challenges, Ningbo Port will thoroughly implement the Scientific Outlook on Development program and stay committed to the strategic goals of building the Port into a world-class deep water hub and an important modern port logistics center of China. The priority tasks are building the Port into a market-based, diversified, international, quality-first, environmental-friendly and innovative port. Efforts will be made to facilitate the upgrading and restructuring of the Port, ultimately to make it into a world-renowned Port with cutting-edge competency.