Ningbo Golden Painted Lacquer
( insightningbo.com )
Updated: 2015-12-23
| | | | | | | | | |
| --- | --- | --- | --- | --- | --- | --- | --- | --- |
|   | | Print | | Mail | | Large Medium  Small | | 0 |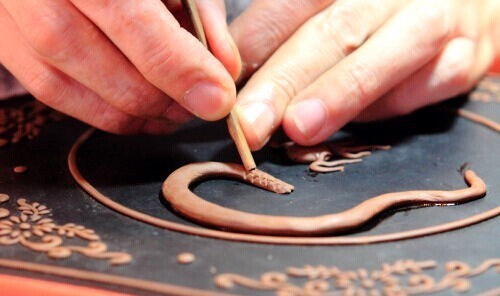 Golden painted lacquer is a time-hallowed tradition of the Han ethnic group. The cultural relic of cinnabar wooden bowls, unearthed in Ningbo's Yuyao region in the Hemudu Archaeological Site, can be considered as evidence of its time-honored history relating to Hemudu Culture dating back more than 7,000 years.
Excellent materials like raw lacquer and goldleaf are selected for Ningbo golden painted lacquer, which utilizes delicate skills handed down from generation to generation both orally and manually. The process is unique and labor-intensive,including over 20 steps, such as pounding lacquer mixture, coopering,troweling, priming rubbing, ground pattern painting and ornament pasting. The work, in many cases, involves three months of work. Ornament pasting, as an exclusive handicraft in Ningbo, refers to using a kneaded lacquer mixture made of raw lacquer and tile or oyster shell mortar, to paste various patterns such as landscapes, flowers, birds, figures and pavilions on wooden or bamboo roughcasts.Featuring ornament pasting ground with colorful paint and decorated with goldleaf, the artware is always magnificent and dazzling.
The golden painted lacquer was very popular in rural areas of Ningbo in the old days for its magnificent appearance with auspicious colors,stereoscopic pattern with rich themes and resistance to erosion.It was said that rich families in the city's Ninghai county often chose golden painted lacquer home furnishings as dowries. The bridegroom's family will make golden painted lacquer wedding beds, while the bride's family will provide small pieces of furniture featuring golden painted lacquer skills,such as a suitcase, basket and hat-stand. The Shilihongzhuang Folk Custom Museum in Ninghai displays large numbers of golden painted lacquer furniture,such as cinnabar suitcases engraved with dragons and phoenixes and wedding beds.
Nowadays, the ancient cultural heritage, which is gradually losing followers, has found its current inheritor, Huang Cailiang, who gives training courses in Ninghai No.1 Vocational Middle School in a bid to cultivatehigh-level inheritors to preserve this ancient decorative art.