Nobel laureate backs TCM research
Updated :2015-12-18
(China Daily Europe)
Mention of an antimalarial drug in ancient Chinese medical texts may lead to more such discoveries
Tu Youyou, the 85-year-old Chinese pharmacologist who received the Nobel Prize for medicine in Stockholm on Dec 10, has urged more research into the benefits of traditional Chinese medicine.
Together with her team, the pharmacologist derived artemisinin from sweet wormwood, which she found cited in a fourth-century TCM text as an ingredient to cure fever, developing a crucial drug that has significantly reduced mortality rates among malaria patients in recent decades.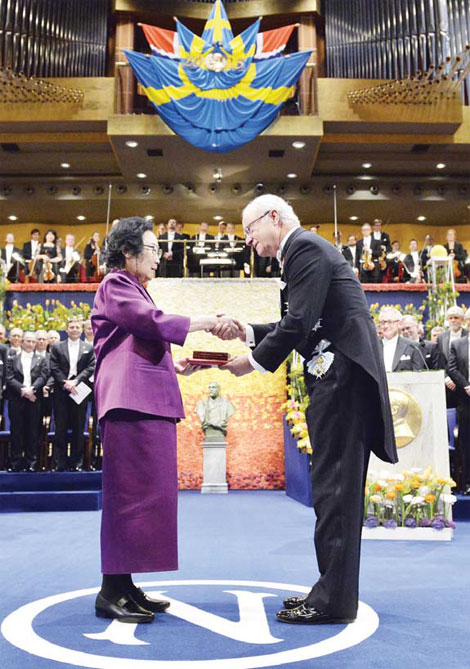 Chinese Nobel laureate Tu Youyou receives her award from King Carl XVI Gustaf of Sweden during the 2015 Nobel Prize award ceremony in Stockholm Concert Hall on Dec 10. Photos provided to China Daily
Tu received half of this year's medicine prize of 4 million Swedish krona ($473,000; 429,000 euros). The other half was shared equally by Irish-born US scientist William Campbell and Satoshi Omura of Japan, who jointly discovered a novel therapy against infections caused by roundworm parasites.
"The discovery of artemisinin has led to development of a new drug that has saved the lives of millions of people, halving the mortality rate of malaria during the past 15 years," said Professor Hans Forssberg, a member of the Nobel committee for physiology or medicine, when presenting Tu's scientific contributions.
Tu, born in 1930 in Ningbo, eastern China's Zhejiang province, is the first Chinese Nobel laureate in physiology or medicine. Also, in 2011, she became the first Chinese person to receive the US-based Lasker Award for clinical medicine.
Dressed in purple for the Stockholm ceremony, Tu delivered a speech titled Artemisinin is a Gift from TCM to the World. Several days before, at a news conference at the Karolinska Institute in Stockholm, Tu called for joint efforts worldwide to combat malaria and develop more potential uses for TCM, which she called a "great treasure" with thousands of years' history and empirical knowledge. She said that by combining TCM with modern scientific technologies, "more potential can be discovered in searching for new drugs".
"Malaria is a pandemic that can go easily out of control, especially in low-income regions such as Africa. So all parties should, under the framework of the (World Health Organization), try their best to delay the process of artemisinin resistance," Tu said.
According to the WHO, more than 240 million people in sub-Saharan Africa have benefited from artemisinin, and more than 1.5 million lives are estimated to have been saved since 2000 thanks to the drug. Apart from its contribution to the global fight against malaria, TCM played a vital role in the deadly outbreak of severe acute respiratory syndrome across China in 2003.
Besides treating viruses, TCM has been most effective in diagnosing diseases; cultivating fitness; treating chronic, difficult, multisource illnesses; and using nonmedicinal methods such as acupuncture and breathing exercises.
However, TCM, which is based on a set of beliefs about human biology, including the existence of a life force, qi, is seldom understood or embraced by the West. Some have even labeled it a "pseudoscience", even though it is based on more than 2,000 years of practice in China.
Tu's acclaim will bring more recognition and respect for TCM, experts say. The Western world should learn to appreciate the value of the treasures of TCM, which would lead to more basic scientific research into ancient TCM texts and ways to explore research findings worldwide.
Although the traditional way of using TCM treatments has benefited Chinese for millennia, the process highlighted by the Nobel Prize carries its own advantages in the prescription and administration of the medicine and related logistics.
Cao Hongxin, head of science and technology for the State Administration of Traditional Chinese Medicine, says that the success has led to a promising approach to the modernization and development of TCM through science and technology.
Cao says Tu was inspired by many ancient classical works on TCM pointing to sweet wormwood as a candidate for the development of an antimalarial drug.
Her success demonstrates that TCM "has to embrace modern technologies and laboratory tools and, more important, stick to the essence of time-honored medical science", he says.
"A simple application of Western medical standards to TCM won't work," he says, calling for more research and standards for traditional medicine.
He cited as an example that international standards for acupuncture needles and the use of ginseng have been set by China.
Wang Guocai, director of Heilongjiang province's food and drug administration, wrote in an article published by China Daily that the discovery of artemisinin is an excellent example of the development of TCM. With the gradually deepening knowledge of the efficacy of TCM, formulations are constantly changing. Artemisinin is the product of Chinese medicine entering the modern cellular and molecular era, he says.
Wang says Tu's success may encourage Westerners to learn more about Chinese medicine. "Sir Isaac Newton once said that if he had seen farther than others, it is because he stood on the shoulders of giants. I also firmly believe that in the development of Chinese medicine, there will be more researchers like Tu Youyou who are standing on the shoulders of giants."
In China, deepened research with the help of modern technology will lead to the modernization of TCM. The government spends more than 1 billion yuan annually on TCM-related research, and "that investment will be further strengthened", says Cao with the State Administration of TCM.
But he adds that much remains to be done, particularly practicing innovation when using TCM theories, studying old TCM texts and transforming or commercializing research findings.
He says this work will be listed in China's 13th Five-Year Plan (2016-20) for TCM, and his administration is working on it.
In five years, the use of TCM will be further explored in the rehabilitation, prevention and treatment of HIV/AIDS, chronic liver infections and diabetes, he says.
During Tu's stay in Sweden, she donated her personal items, a plate marking her achievements and a book of her study on artemisinin, to the Nobel Museum.
(China Daily European Weekly 12/18/2015 page29)