Xi'an Port and Ningbo Port establish friendly relationship
Updated :2015-05-29
(chinadaily.com.cn)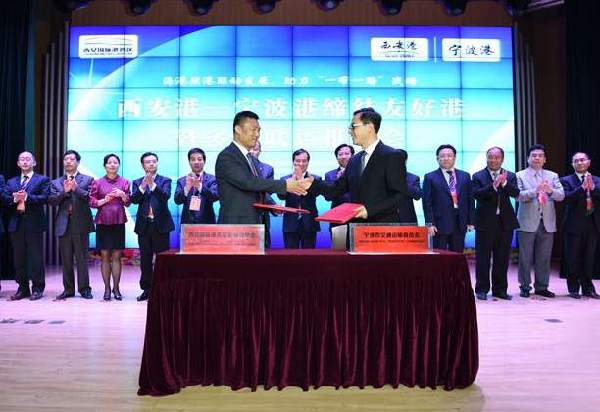 Signing ceremony of the cooperation memorandum between the ports of Xi'an and Ningbo, held at the International Trade and Logistics Park in Xi'an city, Shaanxi province, on May 23. [Photo/itl.gov.cn]
Xi'an Port signed a cooperation memorandum with the Ningbo Port of Zhejiang province at the International Trade and Logistics Park in Xi'an city, Shaanxi province, on May 23.
The cooperation agreement between the two ports is expected to speed up the construction of the Belt and Road Initiative, namely the Silk Road Economic Belt and the 21st Century Maritime Silk Road, were put forward by Chinese President Xi Jinping during his visits to Kazakhstan and Indonesia in 2013.
The Belt and Road routes run through the continents of Asia, Europe and Africa, connecting the vibrant East Asia economic circle at one end and the developed European economic circle at the other.
At the signing ceremony, Lao Kejun, director of the Ningbo Transportation Committee, said that Ningbo would release more preferential policies, as dictated by the memorandum, with the goal of providing a qualified service platform for enterprises from Ningbo and Xi'an.
The two sides will take advantage of each other to improve port construction, promote the popularity of the ports and strengthen personnel exchange.
Yang Mingrui, director of the Xi'an International Trade and Logistics Park, said that Xi'an Port is the first to have received both national and international shipping codes in China. Based on the Xi'an comprehensive bonded zone, the railway container center and the cross-border e-commerce platform, the park wants to be a distribution and trade center along the Silk Road Economic Belt.
Edited by Jacob Hooson