Investment and trade fair boosts Liaoning's economy
By Yang Min(Chinadaily.com.cn)
Updated: 2017-06-08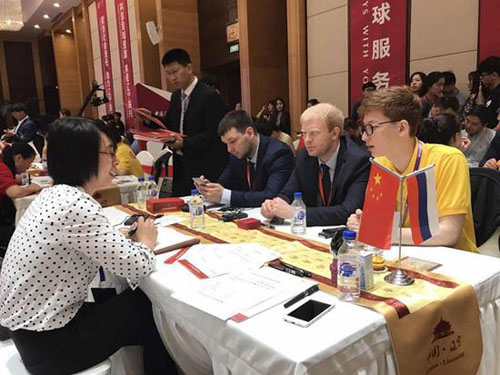 Business representatives negotiate investment and trade items at the 2017 Liaoning Investment and Trade Fair held in Shenyang on June 7. [Photo/nen.com.cn]
Liaoning province in Northeast China is welcoming 188 large investment and cooperation projects, which were signed at the 2017 Liaoning Investment and Trade Fair held in Shenyang on June 7.
Under the theme of "enjoying global resources, promoting Liaoning's rejuvenation", the fair served as a platform to encourage more overseas businesses to participate in the economic construction of Liaoning province, as well as to introduce high-end technology to help Liaoning upgrade its industrial structure.
A total of 29 investment projects valued at 8.48 billion yuan ($1.25 billion) were signed at the beginning of the fair, including one agricultural project and 20 industrial projects in sectors such as equipment manufacturing, auto parts, chemical engineering and pharmaceuticals.
Another 472 projects reached cooperation intentions after 662 one-on-one matchmaking sessions in the afternoon, with 159 of the projects signing final agreements.
Mature industry clusters and preferential policies have laid a solid foundation for Liaoning province to embrace more opportunities.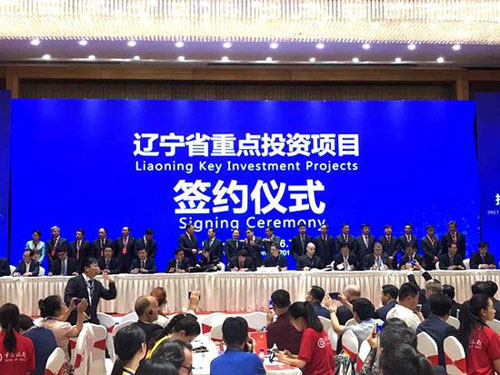 The signing ceremony of the 2017 Liaoning Investment and Trade Fair is held in Shenyang on June 7. [Photo/nen.com.cn]
Liaoning province is one of the key parts of the once flourishing Northeast China old industrial base, which plays an important role in China's equipment manufacturing, automobile and parts and numerically-controlled machine tool production. Complete infrastructure facilities and a solid industrial base give Liaoning an advantage in industrial development.
In addition, the State Council launched policies to help rejuvenate the old Northeast China industrial base in 2003, which has allowed Liaoning to enjoy preferential economic policies. Also, as one of the important steps aimed at supporting Liaoning's rejuvenation, the State Council approved the establishment of the Liaoning Pilot Free Trade Zone in April.
Thanks to Liaoning province's development prospects and its determination to promote economic development, the investment and trade fair attracted officials from Liaoning province, together with 672 businesses from 23 countries and regions to gather in Shenyang to seek cooperation opportunities.