Liaoning FTZ to revitalize regional economy
(Chinadaily.com.cn)
Updated: 2017-04-11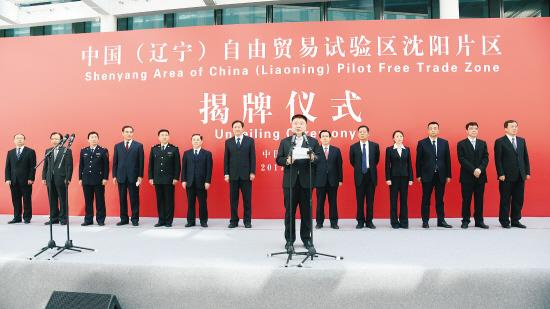 The unveiling ceremony of the Shenyang area of the China (Liaoning) Pilot Free Trade Zone is held on April 10. [Photo/Xinhua]
The central government announced the launch of the China (Liaoning) Pilot Free Trade Zone on April 1, aiming to revitalize the traditional industrial base of northeastern China through promoting domestic and international trade in the region.
The three areas of the China (Liaoning) Pilot Free Trade Zone - Dalian, Shenyang and Yingkou - officially commenced operations on April 10. Dalian will focus on port logistics and financial businesses; Shenyang will focus on equipment manufacturing, automotive and spare parts; and Yingkou will focus on business logistics and cross-border e-commerce.
Some 181 companies received their business licenses on the opening day, and over 350 industrial projects have reached agreements to settle in the Liaoning free trade zone.
"The biggest challenge for Liaoning, and the whole of northeast China, is rigid institutional mechanisms. The FTZ will be a breath of fresh air and force the government to recreate its service systems." said to Song Yanlin, director of the Liaoning FTZ.
"The FTZ will accumulate a wide range of resources and prompt diversified investment, consumption and foreign trade, which will be a new engine for the local economy," said Lu Zhongchang, vice-president of the Dalian University of Technology.
Shenyang, as the transportation, trade, cultural and political hub of northeastern China, has set an industrial development goal of "One Base, Three Centers"—an advanced equipment manufacturing base, an innovation center, a financial center and a trade logistic center.
Shenyang will focus on business reform and push forward opening-up in multiple fields to reach the city's industrial development goals.