SIASUN robots displayed at Automate 2017
By Yang Min(Chinadaily.com.cn)
Updated: 2017-04-10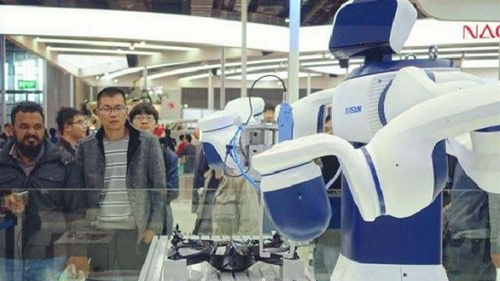 SIASUN's composite robot is on display at Automate 2017 in Chicago, Illinois. [Photo/siasun.com]
China's leading robotic products were on display at the Automate 2017 Exhibition and Conference, the largest showcase of robotics and automation solutions in North America, held this year in Chicago, Illinois from April 3 to 6.
During the three-day biennial expo, high-end products from Shenyang SIASUN Robot and Automation CO Ltd (SIASUN) were on display, drawing much attention from overseas manufacturing businesses.
SIASUN, a high-tech listed Chinese company, has engrossed itself in the manufacture and R&D of intelligent equipment and robotics technology. A highlight of SIASUN's products on display at the expo was Songguo (meaning pine cone in English), a visitor guidance robot capable of providing useful information and automatic instructions for guests of banks, restaurants, exhibitions or any establishment with a lobby.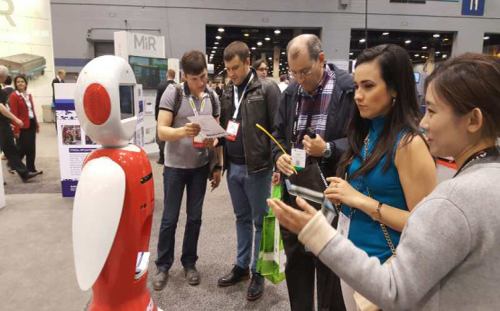 A SIASUN staff member introduces Songguo to visitors at Automate 2017 held in Chicago, Illinois from April 3 to 6. [Photo/siasun.com]
SIASUN's independently developed composite robot also captivated expo visitors. The composite robot differs from traditional industrial robots in that it combines mechanical arms with vehicular movements offering both arm and leg function.
The composite robot can effectively replace human labor in manufacturing, especially in factories for 3C (computer, communications and consumer) products, which used to be difficult to transform into an automatic production lines.
With excellent product performance and world-leading technologies, SIASUN has exported robotics products to 23 countries and regions, and have also attracted a large number of manufactures from countries such as Greek, Mexico and the USA to seek cooperation through Automate 2017.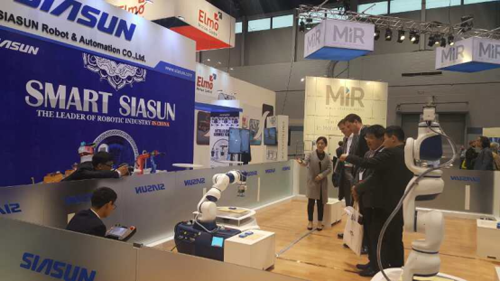 A SIASUN staff member demonstrates robotics products for visitors at Automate 2017. [Photo/siasun.com]