Shenyang sees strong growth in foreign trade
By Yang Min(Chinadaily.com.cn)
Updated: 2017-02-22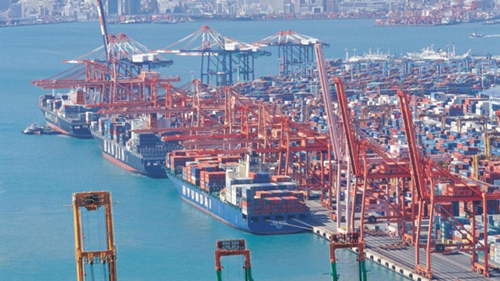 Cargo ships await loading with goods. [Photo/Xinhua]
Shenyang in Northeast China has maintained strong momentum in imports and exports during the first month of 2017, according to local customs authorities.
The gross foreign trade volume of Shenyang amounted to 5.55 billion yuan ($806 million) during the start of the year, representing growth of 27.5 percent from the same period the previous year. Of which, export trade volume reached 2.71 billion yuan, marking growth of 32.7 percent; and the import trade volume was 2.84 billion yuan, an increase of 22.9 percent on last January.
The latest statistics from Shenyang customs, detailing the province's foreign trade, can be broken down into two categories.
First, foreign-invested businesses are the driving force of foreign trade, and foreign trade volume in January reached 3.41 billion yuan, accounting for 61.4 percent of Shenyang's gross foreign trade.
It was followed by State-owned companies, which hit 1.11 billion yuan in imports and exports, with the growth rate hitting 49 percent.
The foreign trade volume of private businesses is a bit less than that of State-owned firms at 1.02 billion yuan, with a growth rate of 45.3 percent.
Second, the majority of Shenyang's imports and exports were mechanical and electrical products. Statistics from Shenyang customs reveal that the export volume for these products hit 1.87 billion yuan, an increase of 33.5 percent. Among which, exported auto parts accounted for 290 million yuan, and autos accounted for 230 million yuan.
Shenyang also has great demand for imported mechanical and electrical products. In January, Shenyang imported mechanical and electrical products worth 2.16 billion yuan, an increase of 20.3 percent compared to the same period in 2016.