Youth skating race concludes in Shenyang
(Chinadaily.com.cn)
Updated: 2017-02-20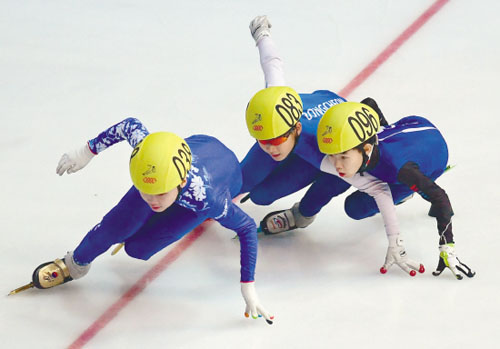 Three youth skaters compete in the First Shengjing International Youth Short Track Speed Skating Race held in Shenyang from Feb 18 to Feb 19. [Photo/Syd.com.cn]
The First Shengjing International Youth Short Track Speed Skating Race was held in the Heping district of Shenyang, Liaoning province from Feb 17 to 19.
Sponsored by the Liaoning Provincial Sports Bureau and the government of the Heping district, the race marks the first time that Heping district has held an international short track speed skating race. The race featured three competitions—a 500-meter race, a 1000-meter race and a 3000-meter relay race.
Two short track speed skating teams from Russia, in addition to American skaters, were invited to compete for medals with 166 Chinese youth skaters from 22 teams.
The two-day event was held at the National Fitness Center in the Heping district. Covering an area of over 10,000 square meters, the center boasts a professional skating venue that conforms to international short track speed skating competition standards. The whole venue can accommodate around 4,000 people.
The event provided a platform for youth skaters to gather to compete and share experiences.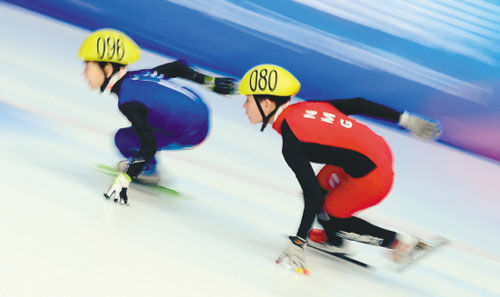 Two youth skaters compete in a short track speed skating race. [Photo/Syd.com.cn]