Ceremony held to commemorate victims of Nanjing Massacre
(chinadaily.com.cn)
Updated: 2016-12-15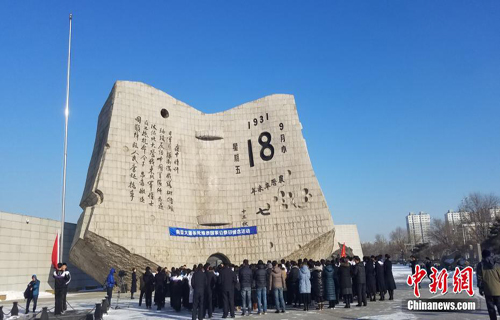 People gather in front of the museum for the "Sept 18 Incident" to commemorate the 300,000 victims of the Nanjing Massacre committed by the Japanese military during World War II on Dec 13. [Photo/Chinanews.com]
Jointly sponsored by the 918 Museum and the Memorial Hall for Compatriots Killed in the Nanjing Massacre by Japanese Forces of Aggression in Nanjing, a memorial ceremony to remember the victims of the Nanjing Massacre committed by the Japanese military during World War II was held in Shenyang during the third National Memorial Day.
Seventy-nine years ago, Japanese troops captured Nanjing, which was then China's capital, and on Dec 13, 1937, commenced a slaughter that lasted more than 40 days. More than 300,000 people were murdered, and about 20,000 women were raped.
In February 2014, China's top legislature designated Dec 13 as National Memorial Day for Nanjing Massacre Victims.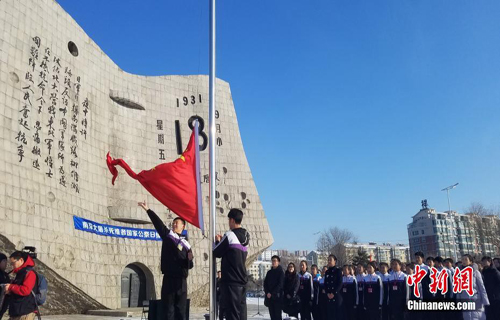 Two students from Shenyang Foreign Affairs Service School raise the national flag in front of the 918 Museum. Over 100 people, including students and teachers from Shenyang Foreign Affairs Service School and all the staff of 918 Museum attended the ceremony, with the aim of commemorating victims, exposing the Japanese Army's war crimes and encouraging people to understand and remember the past. [Photo/Chinanews.com]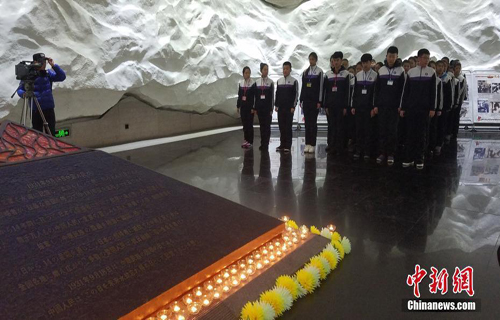 Students from Shenyang Foreign Affairs Service School gather in front of the monument for the victims at 918 Museum to present flowers on Dec 13. On Sept 18, 1931, Japanese troops destroyed a section of railway in northern Shenyang and attacked the Chinese garrison in the Beidaying area of the city that same night. The events were followed by Japan's total occupation of China's northeast regions. In 1999, the central government established the 918 Museum to commemorate all the victims of Japanese aggression during World War II. [Photo/Chinanews.com]