Shenyang robotics industry sees $75.48m in revenues
(chinadaily.com.con)
Updated: 2016-12-07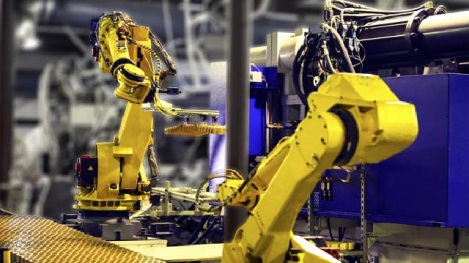 Two Shenyang-produced industrial robots work on a production line. [Photo/Xinhua]
Shenyang, the capital city of Liaoning province, has the biggest industrial robotics industry in China, achieving revenues of 5.2 billion yuan ($75.48 million) during the past 10 months, representing a year-on-year increase of 10 percent, according to information from the Shenyang Commission of Economy and Information Technology.
The robotics industry, together with intelligent equipment manufacturing, is expected to be pillar industries in Shenyang in the future, and is anticipated to play an important role in local economic development.
A group of leading robotics businesses has settled in Shenyang, which include the SIASUN Automated Robotics Co Ltd (SIASUN), Shenyang Weiding Robots Co Ltd and Shenyang Zhongtuo Robotic Equipment Co Ltd. The robotic products produced by them are among the highest quality robotic products produced in China.
Some of Shenyang's innovative technological achievements in robotics have already been transformed into practical applications. For example, the "Tianya" and "Haijiao" Abyss Landers, which were used during China's first 10,000-meter-deep dive for scientific ocean research, had utilized technologies from Shenyang's automation institute.
To support the development of Shenyang's robotics industry, the city has enacted measures to create a better business environment.
Since the beginning of 2016, Shenyang has established a robot testing and inspection center, a robotics industrial development alliance, an innovation center for robots and a college for the research of robots.
A robotics innovation research institute attached to the Chinese Academy for Science is also under construction in Shenyang.
Meanwhile, in order to upgrade robot technologies, robotics businesses in Shenyang are actively seeking international cooperation with world-leading businesses on senior personnel training, intelligent manufacturing and other fields.
Take SIASUN as an example. SIASUN has established a strategic cooperation partnership with Schneider Electric SA –– a French multinational corporation that specializes in energy management and automation solutions, spanning hardware, software, and services. The two sides will develop cooperation in multiple fields.