Certificates of origin benefit Shenyang's exporters
(Chinadaily.com.cn)
Updated: 2016-09-22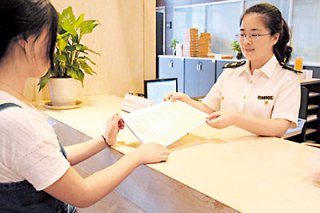 An employee of a business conducting foreign trade receives a certificate of origin at the entry-exit quarantine and inspection bureau in Shenyang. [Photo/Xinhua]
By the end of August, Shenyang's entry-exit inspection and quarantine bureau had issued some 8,397 copies of preferential certificates of origin (C/O) for Shenyang-based businesses conducting foreign trade, a year-on-year increase of 28.2 percent, Liaoning Daily reported on Sept 20.
The issued copies of the certificates involve exported goods worth $55.6 million, and all of the exported goods qualified for a total of $278.17 million in tariff exemptions, saving money for businesses.
Businesses benefit significantly from the work of the bureau, as it makes preferential C/O applications for them, which has helped exporters seek maximum advantage conducting multilateral trade and increased their competitiveness in international markets.
Certificate of origin (C/O)
In printed form or as an electronic document, the Certificate of Origin is used in international trade to affirm that exported goods have been produced, manufactured and processed in a particular country. Such certificates are instrumental in proving goods of a certain origin fall within the framework of bilateral or multilateral free trade agreements (FTA) and other preferential tariff treaties.