Commercial aircraft company lands contract with Boeing
(investinshenyang.gov.cn)
Updated: 2016-05-31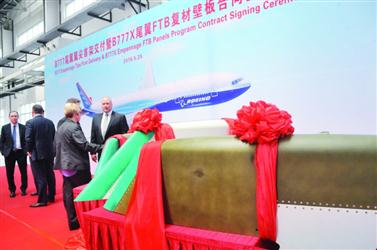 AVIC SAC Commercial Aircraft Co Ltd signs contract with Boeing Co on composite wall panels on May 25. [Photo/Liaoning Daily]
The AVIC SAC Commercial Aircraft Co has signed a deal, on May 25, as China's first manufacturer of tail assemblies for Boeing 777s and putting the company in a solidly leading position in aviation composite materials fabrication technology in China.
The company also signed contracts with Boeing Co on composite wall panels, giving it a chance to supply aviation composite materials mixing glass and carbon fibers.
The Boeing 777 aircraft has been the largest twin-engine wide-body jet airliner in the world, and was also the first Boeing aircraft to be made of composite materials.
Established in Aug, 2007, in Shenyang, AVIC SAC Commercial Aircraft Co Ltd is dedicated to the design, testing, manufacture, marketing, and import and export trade of civil aircraft.