Shenyang's industrial tourism -- new life for old factories
By He Shuang(investinshenyang.gov.cn)
Updated: 2016-05-05
As a part of northeast China's mission is to transform from a "rust belt" with many old industries into an economic hotspot, the city of Shenyang in Liaoning province is tapping its rich old industrial resources to build tourist spots and inject new life into the economy while showing Shenyang's historical, cultural charm to the outside world.
Liaoning was an important base for China's planned economy, but it found itself slipping into the doldrums after the country began its reforms and opening up three decades ago, leaving behind a stripped down but rich industrial heritage.
Today, however, the economy is on its way to recovery as it seeks new ways to combine its heritage with development.
One idea was to build industrial tourism sites where visitors could go skiing, stay in a motor home, or experience a worker's life or farming, or visit a museum to understand manufacturing procedures.
In this, the Huishan Diary Co led the move, last year, with a museum-farmland industrial tourism program then opening a site to the public this March and getting an average of 300 visitors each weekend and reservations that go as far ahead as this June.
"For us Shenyang people, it's natural to be in close touch with industrial production, but for visitors it's just not the same, and these sites have a lot of appeal to them", comments a Baotou tourist agent.
So, Shenyang continues to strive to integrate tourism with industry in automobiles, food production, agriculture, diary products, and air travel through better market systems.
At the same time, newer industries such as artificial intelligence are joining the effort and are providing other alternative tourist routes to let people get to know the city better and "travel through the ancient and modern" in a vast industrial land.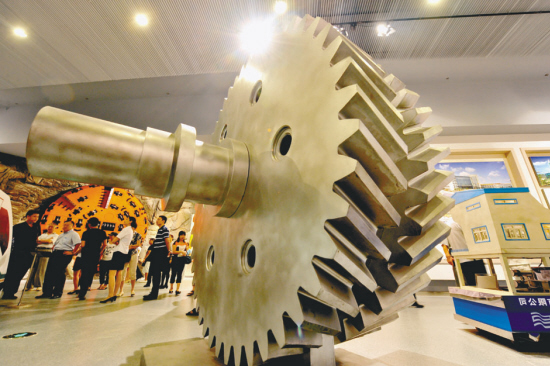 Super-size exhibits at industrial museum in Shenyang, Liaoning province. [Photo/Shenyang Daily]