Like most retailers in Dandong, Liaoning province, Sun Xiaoping was busily packing up goods to send her customers in the Democratic People's Republic of Korea (DPRK).
Sun, a tall, thin woman in her 50s, has run a business in the city for about 10 years.
On the shelves of her modest, 20-square-meter store sat everything from fizzy drinks and chewing gum to socks and gas cookers.
More than 500 people from the DPRK arrive in Dandong every weekday to stock up on daily supplies when the border is opened, said Sun.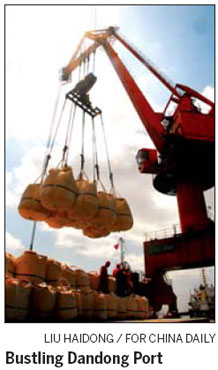 Stores here are already doing a roaring trade, and local retailers predict the buying frenzy will only increase after construction on a Yalu River bridge is completed. The bridge will connect China with the DPRK.
But Sun was not the only voice of optimism. As the DPRK slowly opens up, many big companies are eying the country's market potential.
"Dandong is an excellent location. It's suitable to develop business in this region," said Ralf Schuler, managing director of Elster.
Official statistics show more than 70 percent of bilateral trade between China and the DPRK is handled in Dandong.
Trade with the DPRK was worth more than 4.22 billion yuan last year, up 10 percent over 2007, according to figures from the city's foreign trade and economic cooperation bureau.
About 16 percent of Dandong's current 2.5 million residents are estimated to take part in exports to the DPRK.
"Dandong will serve as the hub of trade, investment and tourism between the two nations," said city Mayor Zhao Liansheng.
Already, most electrical appliances used in the DPRK - such as refrigerators and air-conditioners - were made in China.
Around 300 vehicles shuttled cargo and tourists across the China-DPRK border last year, said Ma Gengsheng, chief of staff at Dandong Frontier Defense Inspection Station.
That number is up significantly from 1990, when just two cars entered China from the DPRK.
However, despite the increase in trade, DPRK investors still face huge risks, said Wang Tingge, president of Huashang International Investment in Dandong.
"It's essential to do the research," he said. "We deal in projects worth more than $100,000 every day. In each case, we have to get guarantees for our clients from the DPRK that any policy related to a project they are investing in will not change. If it does, projects could be doomed to failure."
(China Daily 10/14/2010 page15)