BEIJING - China's commitment to develop one of the world's largest renewable energy markets has led to global financial institutions competing for a slice of the pie as increasing numbers of domestic "green-power" players look abroad for business.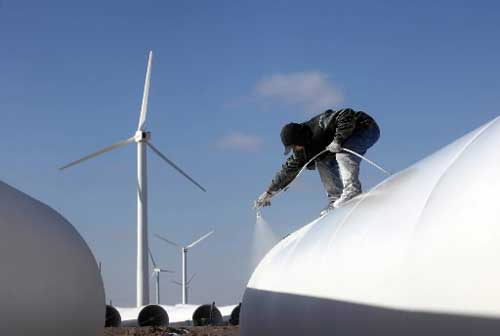 Painting wind turbines in Yumen, Gansu province. China is under pressure from the international community to accelerate its push toward alternative energy. [Photo/Agencies]
China Longyuan Power Group Corp, the Hong Kong-listed new energy arm of China Guodian Group and the largest wind farm operator in Asia, is buying windmills in the United States, General Manager Xie Changjun told China Daily without disclosing further details.
"Lots of domestic players are competing for wind assets in the US," Xie said.
Michael Niederberger, Asia head of technology and renewable energy at the Royal Bank of Scotland (RBS), said: "Mergers and acquisitions (M&As) in the green sector have tripled during the past 12 months. More and more Chinese wind turbine manufactures are looking into investment in overseas markets."
China's State-owned wind power companies are internationally competitive and they have a clear ambition to expand globally, Niederberger added.
However, certain components are still sourced overseas, a factor in encouraging Chinese companies to buy technology through partnerships or M&As, according to a research by RBS.
Chinese companies are testing the water in the overseas wind power industry. Scottish marine energy developer SeaEnergy Renewables and Chinese offshore wind energy company Nantong COSCO Ship Steel Structure Company signed an agreement in July to develop and market steel structures for the offshore wind industry as well as push deepwater wind technology.
A-Power Energy Generation Systems Ltd, based in Liaoning province, is entering the US market by supplying turbines to a joint venture that has plans to build a $1.5 billion wind farm in Texas.
China's leading wind turbine manufacturer, Xinjiang Goldwind Science and Technology Company, is to raise funds through an initial public listing in Hong Kong and said it would spend a quarter of the proceeds on overseas expansion, primarily in the US, Australia and Europe, by purchasing or developing production plants.
"The challenges these Chinese buyers face are the lack of presence in overseas markets and having no track record of direct overseas investment or successful M&As," Niederberger said.
Robert Todd, director of renewable energy resources and energy group of HSBC, said: "That represents great opportunities for us to provide financial advice and to finance projects."
HSBC worked with the Bank of Communications to finance the Baicheng wind farm project in northeast China's Jilin province. The Hong Kong-based bank also helped one of China's power producers to bid for one of Britain's offshore wind farms.
Last year, China Datang International Power Group was one of the bidders for a stake in the world's largest wind farm at the time that belonged to Centrica plc.
It is estimated China's wind power market alone will be worth 1.5 trillion yuan by 2020 when the installed wind capacity should be 150 million to 200 million kW, according to Wang Zhongying, deputy director-general of the Energy Research Institute of the National Development and Reform Commission.
"That much investment will definitely lead to huge financial requirements," said Todd.
Peter Corne, managing director of Evershed's Shanghai office, said: "Traditionally, we had lots of SOEs (State-owned enterprises) in the renewable energy sector expanding into overseas markets and buying technologies there. But we see more and more private companies directly going abroad to buy assets partly because the domestic market is preferred by SOEs."
By Liu Yiyu