Job fair held for graduates in Wuxi
(chinadaily.com.cn)
Updated: 2016-07-28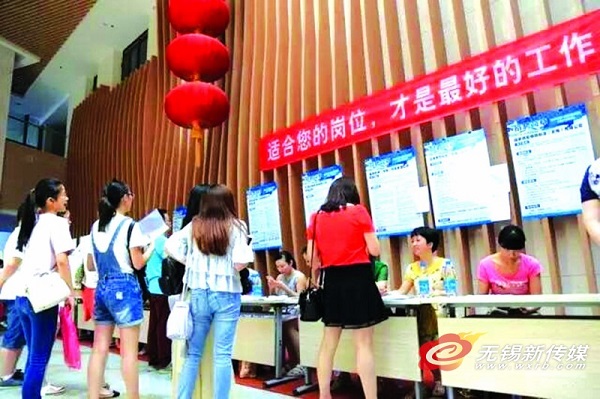 Higher education graduates search for their ideal jobs at a job fair hosted by A-Park in Wuxi National Hi-tech District, on July 23. [Photo/wxrb.com]
The Airport Industrial Park (A-Park) in Wuxi National Hi-tech District (WND) hosted its annual higher education graduate job fair on July 23 offering more than 600 posts for those in the market for their first job.
A total of 44 enterprises participated in the fair offering various posts across the fields of machinery manufacturing, marketing, financing, computer technology, electronic information and logistics. More than 1,300 people came in search of job opportunities, while 141 university graduates reached employment agreements with enterprises.
In recent years, A-Park has taken a series of measures to facilitate the employment of university students. It's the fourth consecutive year that the park has held its annual job fair, helping more than 600 local university graduates gain employment. The number of students as well as enterprises that take part in fair has steadily increased each year.
The park authorities have also formed a working panel for talent recruitment, which aims to increase dialogue between enterprises and students by offering guidance and recommending job seekers to enterprises.
Under the auspices of the park, 21 enterprises based there have set up an HR alliance, which offers internships and job opportunities for graduates. The enterprises also give free lectures to students in order to help with their professional career choices.
The former Wuxi New District, now known as Wuxi Xinwu district or Wuxi National Hi-tech district, was founded in 1992 and underwent administrative changes in 1995, 2002 and 2005.
>> Read More