Wuxi tourist confirmed dead in Bangkok blast
(chinadaily.com.cn)
Updated: 2015-08-21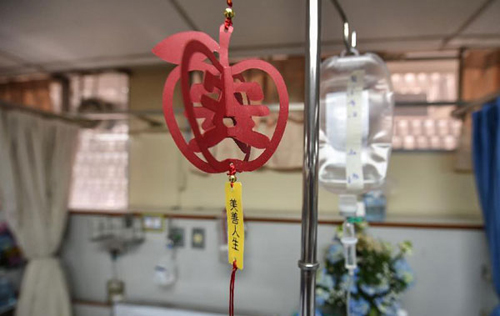 A blessing decoration for an injured Chinese tourist is seen at the King Chulalongkorn Memorial Hospital in Bangkok, capital of Thailand, on Aug 19, 2015. [Photo/Xinhua]
A female tourist from Wuxi, Jiangsu province, has been confirmed dead in an explosion in Bangkok, capital of Thailand on Monday night, the Wuxi tourism bureau announced on Aug 19. Her family members travelling with her were also injured in the explosion and being treated in hospitals in Thai capital.
A deadly explosion rocked Erawan Shrine, a popular tourist destination in downtown Bangkok, on Monday night, killing at least 20 and injuring more than 100 people.
The Wuxi victim, Mrs Shao, was travelling with four other family members, including her husband and daughter in Thailand since August 16. Her family lost contact with her after the blast. A local volunteer helped post a search message via a microblog. She was later confirmed dead as a result of the explosion.
Her father immediately went to Thailand to take care of the injured family members. He was issued a speedy passport at the exit-entry administration with the help of the provincial and the city police on Aug 19. A law firm in Wuxi also came forward to provide free legal advice for the family to help seek their rights.
Edited by Mevlut Katik
The former Wuxi New District, now known as Wuxi Xinwu district or Wuxi National Hi-tech district, was founded in 1992 and underwent administrative changes in 1995, 2002 and 2005.
>> Read More