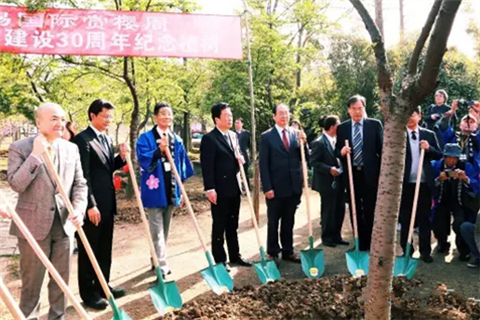 Cherry plantation of friendship blooms in 30th year
Citizens of Japan and China once again joined hands to plant cherry trees in the Turtle Head Isle of Wuxi, Jiangsu province, for the 30th consecutive year on March 28, a symbol of friendship between the two nations.
Groups of private citizens and NGO workers from Japan have been travelling to Wuxi to plant the trees as a gesture of peace and solidarity since 1988.
History of Sino-Japanese cherry plantation
The cherry blossom plantation area at Turtle Head Isle, Wuxi, covering more than 650,000 square meters is a symbol of the friendship between people in China and Japan.
In 1988, some Japanese people and non-governmental organizations began to plant cherry trees at Turtle Head Isle. Till now, the Japanese friends have donated more than 15,000 saplings to the scenic spot.