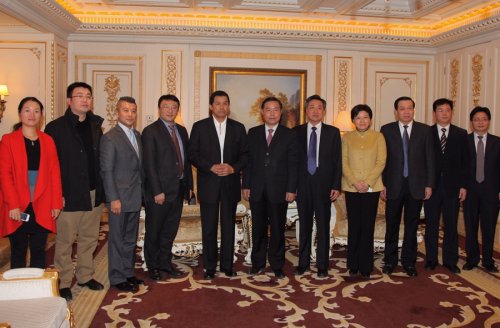 Ding Dawei, secretary of the Nantong Party committee, meets with the Thai delegation. [Photo/netda.gov.cn]
A delegation headed by Korn Dabbaransi, former vice-prime minister of Thailand and president of the Thai-Chinese Friendship Association, paid a visit to the city of Nantong, Jiangsu province, on Dec 11, with the aim of visiting Thai-invested companies, investigating the local investment environment and seeking cooperation.
Ding Dawei, secretary of the city's Party committee, introduced China's new opening-up policies and the city's regional and industrial advantages to the delegation at a meeting.
According to Ding, Nantong promotes economic transformation and upgrading by attracting foreign investments and improving the industrial structure. He expressed his hope that the president can recommend the city to more Thai enterprises and both parties can seek more cooperation opportunities in fields such as tourism and agriculture.
Ding also promised the government will continue to create a sound investment environment and support the development of Thai enterprises in the city.
Dabbaransi shared his 40-year experience in promoting the relationship between Thailand and China. He highly commended China's achievements in economic, social and cultural development and the successful cooperation between the two countries in various fields.
According to him, the friendship association will be devoted to facilitating nongovernmental communication and promoting cooperation in tourism, food and manufacturing industries between the two parties.
Since reform and opening-up, Thailand enterprises have directly invested in 44 projects in Nantong, reaching a contract investment of $257 million. Thai Charoen Pokphand Group, or Chia Tai Group, has established seven companies in the city. This year, a string of food projects have also settled in the city.