An art Gallery, named after the Nantong painting and calligraphic master Fan Zeng, opened to the public in Nantong University, Jiangsu province, on Nov 26. Meng Xuenong, chairman of the Social and Legal Affairs Committee of the Chinese People's Political Consultative Conference, and provincial and city officials took part in the opening ceremony.
Ding Dawei, secretary of the Nantong Party committee, congratulated the gallery on behalf of the local government. He voiced his hope that the gallery could become a cultural landmark in the city and East China and demonstrate the city's cultural resources.
Fan Zeng Art Gallery, located on the main campus of Nantong University, features architecture in a traditional Chinese garden style. With a construction area of 6,600 square meters, the gallery has three exhibition halls. They display the prose and poems written by the Fan family and over 70 paintings and calligraphy works by Fan Zeng. He also provided his paintings as gifts to the university.
Fan Zeng, born to an art and literary family in Nantong, is a contemporary master of traditional Chinese painting and calligraphy. He is now a chair professor of Peking University and tenured professor of Nankai University and Nantong University. He was invited to attend this year's symposium on arts and literature in Beijing, and was received by President Xi Jinping.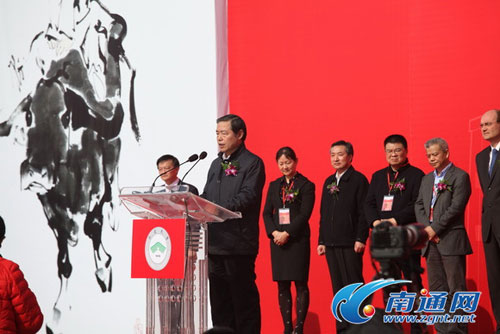 Ding Dawei, secretary of the Nantong Party committee, gives a speech at the opening ceremony. [Photo/zgnt.net]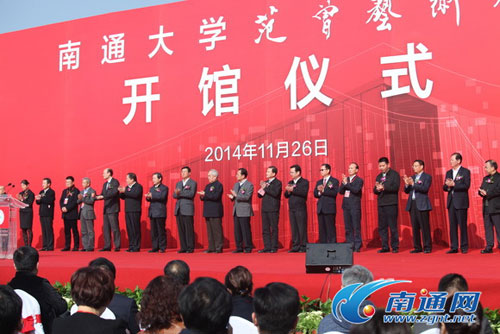 Officials from the central, provincial and local governments attend the opening ceremony. [Photo/zgnt.net]