Figure adds to evidence of better conditions for nation's factories
Chinese manufacturing sprang back in August at a faster-than-expected speed, indicated by a four-month high in the HSBC Holdings Purchasing Managers' Index. The development is expected to lead a rebound for other emerging economies in the coming months, according to the British bank.
The preliminary reading of the manufacturing PMI rose to 50.1 in August from 47.7 in July, ending a three-month consecutive contraction since May, the bank said on Thursday.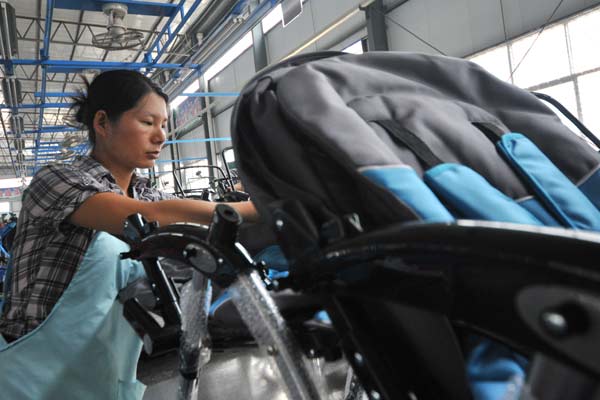 Activity in China's manufacturing sector rebounded strongly this month, and major economic indicators released in recent weeks all point to a stabilization of the economy. [LI ZONGXIAN / FOR CHINA DAILY]
The HSBC PMI was 48.2 in June. A PMI reading above 50 means business expansion in the industry.
China's strengthened manufacturing sector was in line with the recent obvious improvement in factory production in the United States and the eurozone, which together are expected to pull emerging markets out of slowing growth, economists said.
Since July, the manufacturing sectors in the US and the eurozone have showed an upward trend. The PMI reading was 55.4 in the US in July, up from 50.9 in June. In the eurozone, it climbed to 51.3 in August, compared with 50.3 in July, signaling that the world's major economies are firmly on the road to recovery.
Zhang Zhiwei, chief economist with Nomura Securities Co Ltd, said China's August PMI confirms that its economy has stabilized in the short term and downside risks for the second half have declined.
In August, a PMI sub-index that indicates factories' output rose to 50.6 from 48 in July, the highest level in three months. The new order sub-indicator rose to 50.5, 3.9 points higher than that in July, the highest since April, according to HSBC.
"China's manufacturing growth has started to stabilize on the back of modest improvements in new business and output," said Qu Hongbin, chief economist in China with HSBC.