Nobel Prize laureates explore life and Buddhism
(chinadaily.com.cn)
Updated: 2015-10-26
Both guests agreed that Buddhism has positive effects on daily life.
Mo considered Buddhism an important part of traditional Chinese culture because even many illiterates in rural areas believe in aspects of Buddhist philosophy like karma, heaven and hell, and former lives.
Roberts thought both science and Buddhism should have respect for nature. Buddhism calls for harmony between man and nature, and scientists should use advanced technology in a moral way.
Mo appreciated the contribution that Buddhism has made to world peace. As warfare mainly results from man's desire, Buddhism advocates resisting temptation and reducing disputes with tolerance. Roberts hoped that celebrities in various fields would make use of personal influence to promote peace, harmony and common development.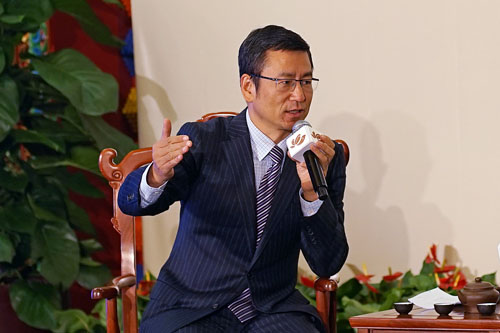 Bai Yansong, the CCTV host, comments on Buddhism. [Photo provided to chinadaily.com.cn]
In closing remarks, Mo expressed his view that all people should cherish their lives. Roberts called for verbal exchanges between countries instead of shooting. Bai Yansong, the host, made reference to the Chinese philosophy "harmony in diversity" to conclude the forum.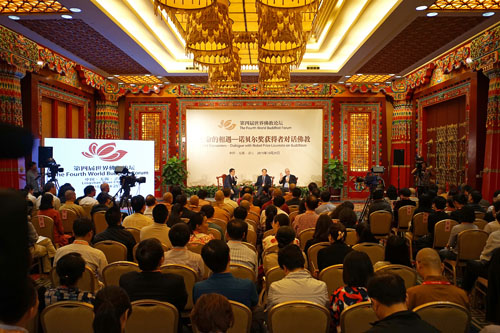 The TV forum, with the topic "Life Encounters – Dialogues with Nobel Prize Laureates on Buddhism", is widely viewed during the fourth World Buddhist Forum at Lingshan Buddha Palace, Wuxi, Jiangsu province, on Oct 24.[Photo provided to chinadaily.com.cn]
Tel: 0510-81178873
E-mail: haiyulu@163.com