Nobel Prize laureates explore life and Buddhism
(chinadaily.com.cn)
Updated: 2015-10-26
A TV forum, with the topic "Life Encounters – Dialogues with Nobel Prize Laureates on Buddhism", was widely viewed during the fourth World Buddhist Forum at Lingshan Buddha Palace, Wuxi, Jiangsu province, on Oct 24.
Mo Yan, Nobel laureate in Literature 2012, and Richard Roberts, Nobel laureate in Physiology or Medicine 1993, attended the forum to share their insights on life and Buddhism. Bai Yansong, a well-known host from China Central Television (CCTV) took the podium.
The two guests and the host shared their opinions on life from the perspectives of literature, science and Buddhism, and explored the value of Buddhism in modern society.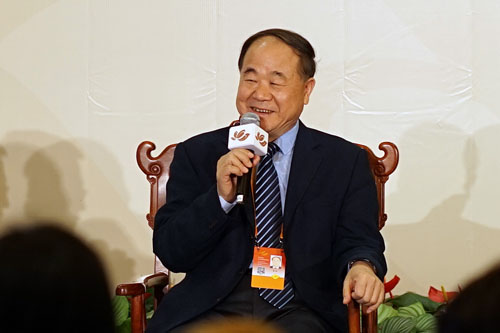 Mo Yan, Nobel laureate in Literature 2012, speaks at the forum. [Photo provided to chinadaily.com.cn]
The first topic was destiny, or fate. Roberts said that most scientists believe in evolution, in which luck does exist. He felt it is bad for students to believe in destiny as doing so might lead to negative attitudes. Mo believed that to some extent one's genes represent one's destiny. The acquired knowledge from learning, however, makes one's behavior conform to social standards and helps overcome some inherent defects, in turn affecting destiny.
Regarding the topic of genes, Roberts commented on gene transfer technology. He said the combination of certain genes which has been proved safe plays a significant role in the cultivation of genetically modified (GM) foods. Taking "Golden Rice" as an example, he said that GM rice rich in Vitamin A could greatly relieve food pressure in some poor countries where more than 10 million children died from lack of Vitamin A in the last 10 years.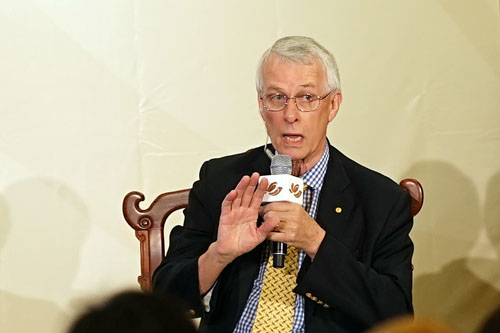 Richard Roberts, Nobel laureate in Physiology or Medicine 1993, expresses his opinion. [Photo provided to chinadaily.com.cn]
Tel: 0510-81178873
E-mail: haiyulu@163.com