Wanda's grand cultural plans in Wuhan
By Liu Wei in Wuhan (China Daily)
Updated: 2014-01-09
China's real estate conglomerate Wanda Group is making its mark on the domestic cultural industry, after its successful purchase of the US theater chain AMC.
The company is planning to create a cultural district in Wuhan, capital of Hubei province, which includes offices, residential spaces, shopping malls and two eye-catching cultural programs.
The studio of acclaimed architect Mark Fisher (who passed away in June) designed the Han Show Theater that overlooks the city's Donghu Lake, as well as the Movie Park that overlooks Shahu Lake to its east.
Spread over 100,000 square meters, the three-story Movie Park will be the first indoor movie theme park in the world. Containing six attractions built upon the most advanced movie technology by top studios and special visual effect companies like Industrial Light & Magic and R&H, it is scheduled to open on Dec 20.
Also in the one-year opening countdown is Han Show, directed by Franco Dragone, theater and performing arts maestro behind the most prestigious shows of the Cirque de Soleil.
The company expects the two attractions to boost the city's cultural tourism when the gates open in December.
"Wuhan is geographically the center of China, with convenient transportation to major cities," says Jung Tang, vice-president of Wanda Group. "Wanda's negotiation with the Wuhan government went very smoothly, with both sides hoping to make the city an eco-friendly international tourism destination with rich cultural attractions."
The city, four to five hours by rail and two hours by air to Beijing, Shanghai and Guangzhou, foresees fast growth for its economy.
"Wanda's programs in Wuhan targets not only local residents, but those across China and the world," Tang adds.
Gordon Dorrett, president at Forrec, Ltd, the Toronto-based planning and design firm and designer of the Wanda Movie Park, believes the project will play a significant role in attracting tourists.
According to Dorrett, among the park's six attractions will be a flying theater, in which visitors will be fixed on chairs in the air, surrounded by screens showing landscapes of Hubei province. They will feel like they are flying over the territory in 15 minutes, with specially designed sounds and aromas.
It was Wanda chairman Wang Jianlin's vision to put all the attractions in a single building, which makes the project one of the most demanding in Forrec's 40-year history.
"He told us he had this much property, he needs to build a spectacular landmark for Wuhan, and a spectacular landmark that would be world class, so the question that came up was how much could we fit into the building?" Dorrett says.
Equally demanding is the creation of Han Show, to be staged in a theater of 2,000 seats. The theater, also designed by Fisher's studio, has an exterior shape inspired by the red Chinese lantern.
There will also be subtle Chinese elements inside the theater.
Dragone needs the seats to move at a certain moment in the show, taking audiences on a ride over water onstage.
"It would be totally impolite and crazy if I did not put Chinese elements in the show, which is about Hubei, about Han civilization, but we have to do more than this," Dragone says.
"I will never be able to put on the stage the 5,000 years of history. But we put in the spirit. People will be able to feel it when they see it."
Half of the team members are Chinese, who work with Dorrett's team on the integration of Chinese cultural elements and contribute in the fields of engineering, lighting and sound. Other themes include racing, fighting and space adventures.
Some top Chinese artists have joined in to help realize the grand goal, such as Tim Yip, the visual artist and costume designer of Crouching Tiger, Hidden Dragon.
Dragone adds that 80 to 85 percent of the cast will be Chinese selected from professionals in gymnastics, synchronized swimming and ballet, who will receive training in Langfang, a city near Beijing, in the following months.
liuw@chinadaily.com.cn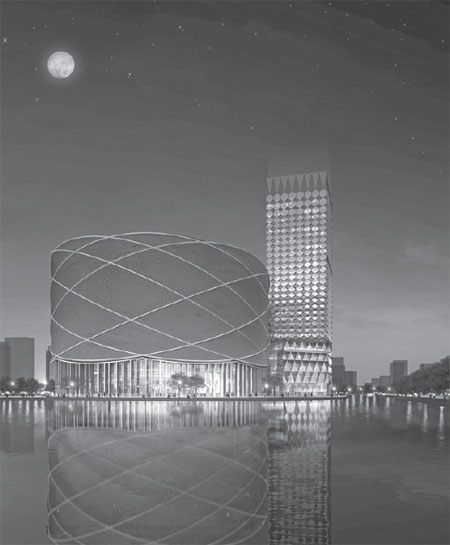 A design sketch of the Han Show Theater. Its exterior was inspired by the red Chinese lantern. Provided to China Daily
(China Daily USA 01/09/2014 page10)