Awards handed out at the 22nd Golden Rooster Film Festival
By Liu Kun (chinadaily.com.cn)
Updated: 2013-09-30
Actor Huang Xiaoming is awarded Best Male Lead for his performance in the film American Dreams in China.
The 22nd Golden Rooster and Hundred Flowers Film Festival held a grand closing ceremony at Wuhan Stadium on Sept 28.
The event is one of China's most closely watched award ceremonies, and Peter Chan's film American Dreams in China won the award for Best Director and shared the award for Best Feature Film with the makers ofThe Story of Zhou Enlai.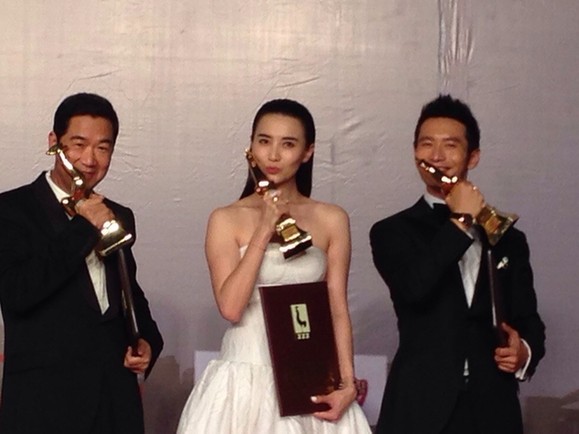 Zhang Guoli(left), Song Jia(middle) and Huang Xiaoming kiss their trophies.
Huang Xiaoming inAmerican Dreams of China, and Zhao Guoli in Back to 1942 were named Best Male Lead, and Song Jia was named Best Female Lead, for her performance in the film Falling Flowers. The film Back to 1942 received the Special Jury Prize and also won in the categories of Best Adapted Screenplay, Best Cinematography and Best Sound Recording.
Zhao Wei won the award for Best Directorial Debut for her film So Young. The Best Supporting Actor award was handed out to Wang Qingxiang in The Grandmaster, and Best Supporting Actress went to Wang Luodan in Caught in the Web.
Yu Min, 99, one of the founders of the Golden Rooster Awards, and 91-year-old Liu Xueyao, a film art designer, each received a Lifetime Achievement Award.
In addition, Feng Shui won for Best Medium Budget Film, Fallen City won for Best Original Screenplay,The Story of Zhou Enlai won in the Best Score category,The Grandmaster won for Best Art Direction, and Battle of Chosin Reservoir won the award for Best Documentary.
During the ceremony, the organizers revealed that the city of Lanzhou in Gansu province would host next year's 23rd Golden Rooster and Hundred Flower Film Festival.
Edited by Niva Whyman and Le Qin