Recreational vehicles on the road to greater acceptance
By Wu Wencong and Yang Wanli (China Daily)
Updated: 2012-03-23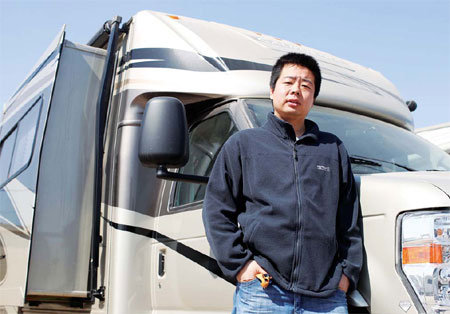 Wang Xudong at the ongoing Beijing International RV and Camping Exhibition (March 22 to 25) at the Beijing RV Expo Center, Changyang CSD, Fangshan district. Wang Jing / China Daily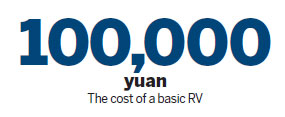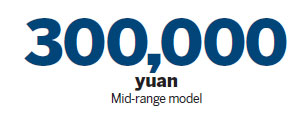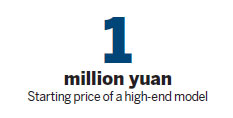 Sales predicted to move into top gear, Wu Wencong and Yang Wanli report in Beijing.
Wang Xudong is obsessive about the great outdoors. So much so that he named his week-old twins Lu and Ying, after luying, the Chinese word for camping. Allied to that love, Wang has an almost unshakable belief that the future of China's recreational vehicle industry is bright. Rather like Mr Toad in Kenneth Grahame's classic children's book The Wind in the Willows, the wide open road is everything for Wang.
And he may have a good reason for being so optimistic, having witnessed the development of China's RV industry almost from its inception.
Ten years ago, when Wang and his brother founded 21rv, the country's first professional website dealing in RV-related news, few people in China had any idea what an RV was. In June, a convoy of 15 RVs will head to Europe on a three-month road trip.
The flow of domestic tourists in China reached 2.6 billion in 2011, a jump of 13.2 percent from the previous year, generating revenue of 1,930 billion yuan ($305.5 billion), a rise of 23.6 percent, according to figures revealed by Shao Qiwei, head of the China National Tourism Administration, at a January conference in Guangzhou.
By August, ownership of motor vehicles in China exceeded 100 million. The distance traveled on the nation's expressways was 74,000 kilometers, second only to the United States with 80,000 km, the National Bureau of Statistics said in February.
In the meantime, a rise in incomes in the major cities has made the future appear even more promising in a country where vehicle ownership has been rising at breakneck speed. Statistics from local authorities show that per capita GDP in Beijing and Shanghai topped $12,000 last year, approaching the levels seen in developed economies, when measured by the World Bank's criteria.
The figures, and the nation's increasing love of luxury brands, would seem to indicate that the time is ripe for the Chinese RV sector to expand - and there is plenty of room for growth.
The RV industry in China is in its infancy. Out of a population of 1.3 billion, ownership of the multipurpose vehicles totaled just 6,000 by the end of 2011. Conversely, the number is 8.9 million in the US, 6.5 million in Europe, and in Japan, 78,000.
"The figure may seem relatively small, but it has doubled and redoubled over the past few years," said Wang Xudong, senior editor at 21rv.
For industry insiders, such a low ownership rate is a "glass half-full" situation - the low starting point means that the growth potential is massive. That's been acknowledged by Western RV manufacturers, such as Hymer of Germany and Evergreen in the US, who are now targeting the Chinese market, either by employing local agents or by setting up factories with domestic producers.
The growing interest in such an undeveloped market from overseas rivals has increased the pressure on domestic players, but their optimism makes them stick with the industry in the hope of becoming pioneers.
But the path to success is likely to be bumpy, and the industry faces a number of potential roadblocks.
Policy glitches
For Wang, the most important factors limiting the industry have been the attitudes of policymakers and police, whose stringent policies regarding the vehicles often make ownership of an RV seem more like a pain than a pleasure.
"Vehicles with a displacement of 1.2 liters or higher have been allowed to tow a trailer RV weighing less than 700 kilograms since 1994, according to the relevant traffic laws. But I was fined for driving like that in Beijing about 10 years ago," said Meng Qiang, an RV enthusiast, who set up his own brand, Sojourner, in 2010.
"In Beijing, it's fine now, but in other places, such as Hubei (province), I am still stopped and fined sometimes. There's no set penalty, it just ranges from 100 to 2,000 yuan," he said.
Although trailer RV fans can still face run-ins with the traffic police, the attitudes of provincial governments across the country seem to be changing, gradually. Policies supporting the development of the industry have been instigated in provinces ranging from frozen Heilongjiang in the north to the island resort of Hainan in the south.
But Wang said support is often limited at a local level. "Take Sanya in Hainan province as an example: We are only allowed to park our RVs in parking lots and even then, we're not allowed to open the awning, cook outside the vehicle, or even pitch tents," he said.
Restrictions of this sort cancel out the advantages of owning an RV. They've left potential buyers scratching their heads and questioning the value of buying such a vehicle when the overall experience is little different to simply driving a large car. The situation has had a negative effect on sales, leaving the 30-odd Chinese producers and retailers fighting for a share of a miniscule market already threatened by foreign producers.
The scale of production is restricted by limited market demand. That's had a knock-on effect on manufacturers as economies of scale are almost non-existent, resulting in the price of components being driven to exorbitant levels.
For example, Meng said the type of lock used in his RVs costs about 10 yuan in Western countries, but the price for a domestically produced item with no discernable difference in quality can be as much as 50 yuan.
Meng's Sojourner brand exclusively produces around 50 low-end teardrop trailers a year, each costing around 50,000 yuan. They're popular with his staple customer base of off-road drivers and fishing clubs.
"The seal edge for the door must be made of aluminum or stainless steel. I had to make the mold myself and then find a factory to produce it for me," said Meng. "Manufacturers will only accept orders weighing 500 kgs, but each door seal only weighs 0.15 kg, so the oversupply is massive." He said his company has also made 28 molds, greatly increasing his production costs.
"There are also problems importing components. Each type usually arrives by the container-load. The volume in each container is enough to last my factory three years, but I have to pay the fee in a lump sum," said Meng.
A vicious circle
The immature industry chain inevitably means that the domestic price of an RV is high (See panel above). So much so, the sector is one of the few industries where the label "Made in China" does not guarantee a lower price.
Liu Yujiao is in charge of RV sales at the privately owned Great Wall Motor Co. He paid a visit to the 49th Caravan Salon Dusseldorf trade fair in Germany, one of the largest RV exhibitions, in August 2010, emphasized how much cheaper Western-made RVs are when compared with Chinese models.
"Their scales of production and sales volumes are much larger, and they have a mature assembly line," said Liu. "I could also achieve that level of production by purchasing large quantities of components and lowering my prices, but who will buy all the RVs I produce?"
The high retail price, partly a result of the high production costs, is also a factor preventing potential customers from buying RVs, completing a vicious circle in the fledgling industry.
A lack of facilities
Growth isn't just being hampered by policy glitches and the high price of RVs, though. A lack of facilities is also being cited as a factor limiting expansion.
Wang at 21rv said there are just a few dozen camp sites in China, and that 80 percent of them are located north of the Yangtze River.
"A decent camp site calls for investment of at least a few million yuan, in addition to the cost of the land," he said. "Each place is usually priced at 200 yuan a night. Setting the price too low means operators can't recoup their investment, while setting it too high runs the risk of losing customers."
Wang Dongping, general manager of the China Travel Service Assets Management Corp, compared the situation with that in Japan, where many camp sites were built by the central government and are operated by private businesses.
CTSAM, a division of China National Travel Service (HK) Group, was one of the few State-owned enterprises to enter the RV market in the early days, helping to develop and operate camp sites.
"I dare say some people can make money by operating camp sites," Wang Dongping said at an RV forum in August. "But why are we doing this? As a State-owned company, our mission is to build the network first." He told the forum that CTSAM, aims to build 20 new sites this year, add 50 more in 2013 and increase the number by 500 in 2020.
However, that may all be irrelevant, according to Wang at 21rv. He explained that the official number of camp sites around Beijing is 20, but that only four are actually operational. Some of the land was developed as camp sites so the developers could claim government subsidies, but they were not well managed. So the customer flow was small and soon the camp sites existed in name only.
A bright future. When?
Given a national motor-vehicle ownership of 100 million versus an RV ownership of 6,000, the growth potential is obvious. The people China Daily spoke to all believe in the industry's future, but the question is: When will it happen?
The good news is that many observers believe the boom times will arrive in three to five years - the bad news is that people have been saying that for quite a while now.
In 2010, when the first Beijing International RV and Camping Exhibition was held in the southwestern Fangshan district, many insiders were confident that the RV era would arrive soon.
Now, with another exhibition in full swing, many insiders are still struggling with the same problems they faced at the beginning.
"Having a little faith is important," said Liu Yujiao at Great Wall Motor Co, "Many industries, when put into a Chinese context, grow beyond the international pattern, like the explosion in sales of cell phones and private cars. Perhaps the next pleasant surprise will arrive in an RV."
Contact the reporters through wuwencong@chinadaily.com.cn and yangwanli@chinadaily.com.cn
(China Daily 03/23/2012 page1)