Enshi Grand Canyon
(chinatravel.com, chinatourmap.com)
Updated: 2012-02-07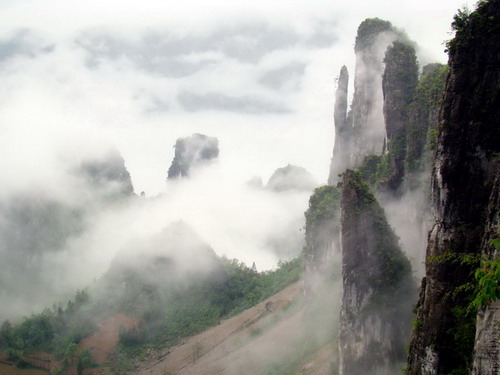 It is as marvelous as the Colorado Grand Canyon of the USA.
Location: Enshi
Its cliffs stretch as hundreds of miles.
Enshi Grand Canyon is located in the Enshi Tujia and Miao Autonomous Prefecture. It is bordered by Yangtze Three Gorges in the north, Zhangjiajie National Forest Park in the south and the neighborhood of Yichang city in the east. Its cliffs stretch as hundreds of miles.
"As far as spectacular is concerned, this one is as marvelous as the Colorado Grand Canyon of the USA. However, it is matchless in terms of beauty," a tourist once said. Western tourists often speak highly of the canyon's clean water, marvelous waterfalls and peaks.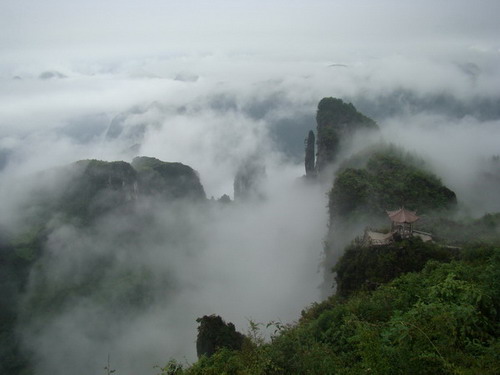 Its cliffs stretch as hundreds of miles.
Five wonders of Enshi Grand Canyon
The magnificent Enshi Grand Canyon is imposing yet spacious, presenting diverse layers of landscapes. The mountains and the Qingjiang River valley are deep, different from other mountains.
White clouds rise from Qingjiang River in a seemingly choreopraphed manner. Rhe sea of cloud ascending from Qingjiang River to bathe the grand canyon looks like a soaring dragon, winding for hundreds of miles, plump and smooth-skinned.
Unlike karst landforms that normally have either precipices or peak clusters, Mufu Grand Canyon has both. Precipices may sink along the sides of the peak clusters or rise high above peaks. No other land formations like this exist in other parts of the world.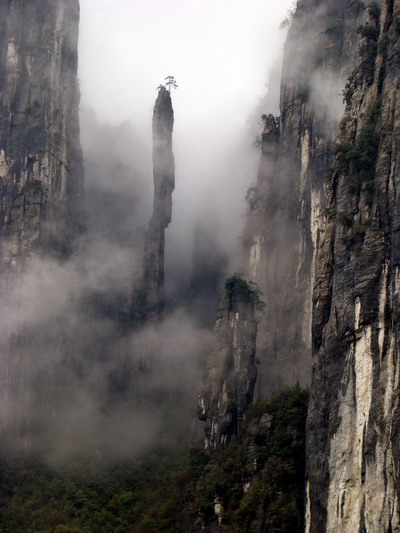 The cliffs
A colony of caves is another feature of the Grand Canyon. Statistics show the Grand Canyon is currently lined with about 200 caves. The Hot Cloud Cave at Banqiao offers two entrances separated by a cliff. One entrance breathes hot wind and the other blasts cold air. The cold and hot air mingle to create coiling smog. The cave hall may accommodate tens of thousands of people. It is matched with a platform bridge; harmonizing water and heaven, man and materials.
The Yunlong River of the Enshi Grand Canyon has a 7,500-meter-long geo-fracture, dropping 75 meters at its deepest. The geo-fracture is suffused with fantastic rocks in a riot of colors. It has leafy ancient trees and babbling streams. It is relaxing and pleasant to watch the vibrating waterfalls at the banks of the geo-fracture.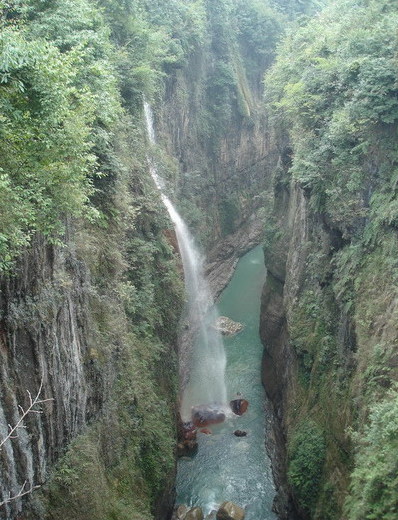 A river
After 10 years of on-the-spot investigations, a Chinese-French exploration team recently announced that the underground river from Fengjie Longqiao River to Enshi Grand Canyon stretches 50 kilometers, the longest in the world. The underground passage has 108 vertical shafts, similar to the irrigation system of wells connected by underground channels in Xinjiang.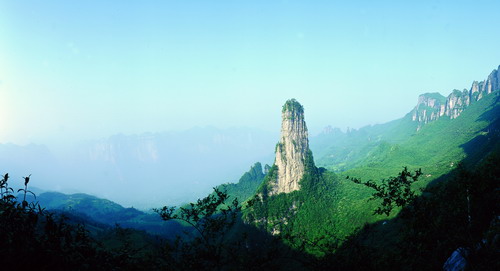 A stunning view at Enshi Grand Canyon
Traffic service
Passengers may take scheduled flights to arrive at Enshi from Wuhan (two flights/day), Yichang (two flights/week), and Chongqing (two flights/week). Scheduled buses leave for Enshi every 50 minutes at Yichang Long-distance Passenger Station. Passengers may board non-stop trains at Wuhan and Chongqing to Enshi. They may also travel via expressways. Taxi services are cheap in downtown Enshi. It is a 60 kilometers drive from the downtown area to Mufu Grand Canyon. Passengers may take shuttle buses at Guabangyan station at the Qingjiang bridgehead or Hangkong Road passenger station to Mufu town, the seat of the Grand Canyon. It takes less than two hours to drive.
Tourism tips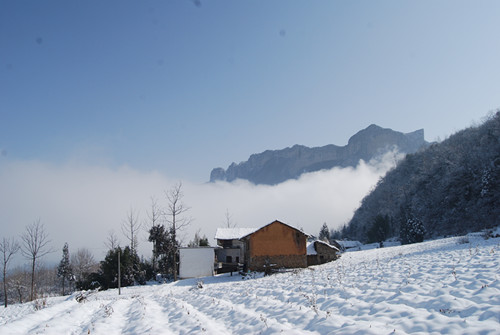 The canyon covered in snow
Enshi Grand Canyon comprises of three mountains. It takes four to six hours to climb the mountains. Passengers are recommended to wear sneakers. Senior citizens, children and the weak should buy a walking stick at the foot the mountain. Bargaining is common. Passengers may bring snack food and bottled water with them because they are expensive in the mountains. There are no shortcuts midway so passengers feeling tired may use the jampan service. Visitors may pay to go downhill via elevators, but this way does not reach the very bottom.
It is strongly advised that passengers with children younger than three years old do not climb the Grand Canyon. Children are unable to walk the whole course by themselves and it is difficult for adults to carry infants on the long journey.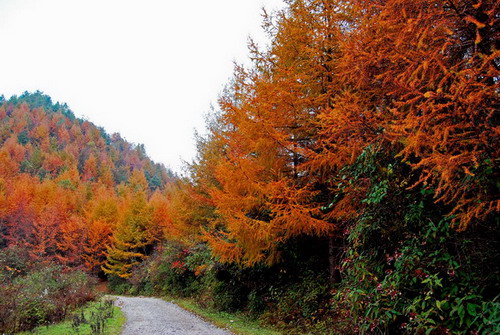 Beauty in the fall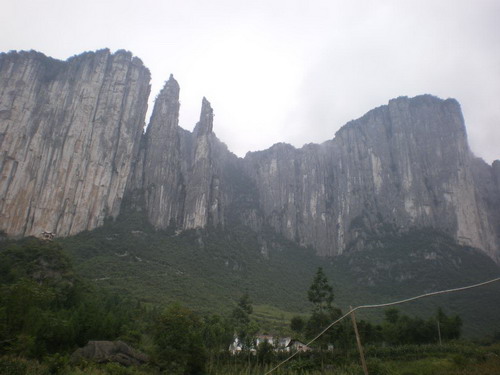 Grand canyon