Jingzhou folk custom: temple fair at Guan Yu Temple
Updated: 2011-12-29
In the first month of the lunar year and on May 13th of the lunar calendar, a grand temple fair is held at the Temple of Guan Yu. The temple becomes crowded and people of the Jingzhou, Hubei province play dragon lanterns, paddle lotus gathering boats, ride horses to shoot arrows, wind trumpets and lift sedan chairs.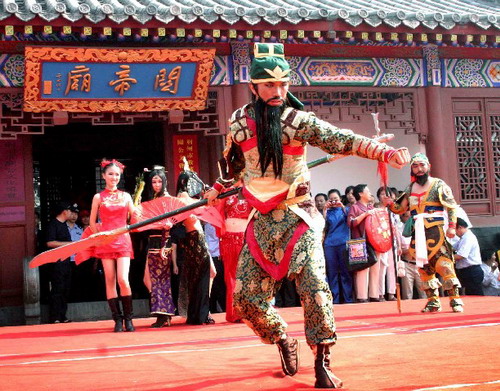 Jingzhou folk custom: temple fair at Guan Yu Temple
It has been an invariable custom of Jingzhou over the past thousand years to worship Guan Yu. In the days when Guan Yu led troops into battles against Kingdom Wu and returned in triumph, soldiers and civilians of Jingzhou lined the street outside the North Gate to welcome him. They beat their drums and gongs and set off firecrackers. The street remains known as Victory Street. On New Year's Day and other festivals, the young men of Jingzhou who play dragon lanterns would first pay respect for Guan Gong at the temple.
Tourism souvenirs of Jingzhou mainly centre on the Guan Gong culture. They are represented by silk handkerchiefs embroidered with Guan Yu's image, exquisite packsacks printed with Guan Yu's portrait, picture postcards of Guan Yu and small statues of Guan Yu. The people of Jingzhou largely enshrine and worship Guan Yu in the halls of hotels, shops and residences. Some people offer sacrifices to Guan Yu every day.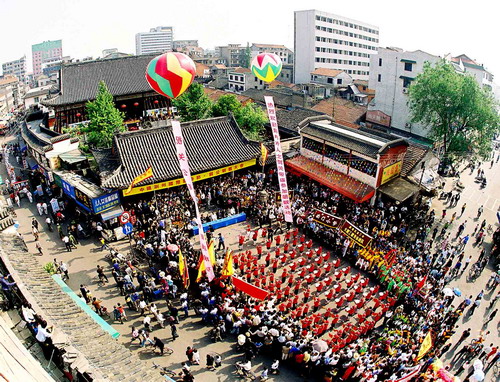 Jingzhou folk custom: temple fair at Guan Yu Temple
Almost all Jingzhou people, young or old, can tell stories of Guan Yu guarding this important city. As communications across the Taiwan Strait become increasingly frequent and China keeps closer ties with overseas areas, more and more people from Taiwan, Hong Kong, Macao areas and other countries have visited Jingzhou to pay respect for Guan Yu. They often come offering incenses and wish to fulfill their promises.
No matter where they come from, people will gather at the Temple of Guan Yu in Jingzhou and eulogize the loyalty of Guan Yu in all languages. People come from Jingzhou, Hubei, Shanxi, Henan, Fujian, Singapore, the United States, Japan, Europe, or other parts of the world. The chief of Jingzhou Temple of Guan Yu management committee says, "People of all colors have gathered here from across the world to inherit the loyalty, benevolence and bravery of the culture and ethics of Guan Yu. Between times, this tiny temple looks like a miniature of the United Nations."