Stay up on New Year's Eve: the rural folk custom of northwest Hubei
Updated: 2011-12-29
In the Chinese lunar calendar, the last day of the twelfth month is called New Year's Eve.
It is the busiest and most exciting day in a year. Women prepare the reunion dinner for New Year's Eve. Men and children tear up old antithetical couplets and door paintings and post up new ones with central scrolls and New Year pictures.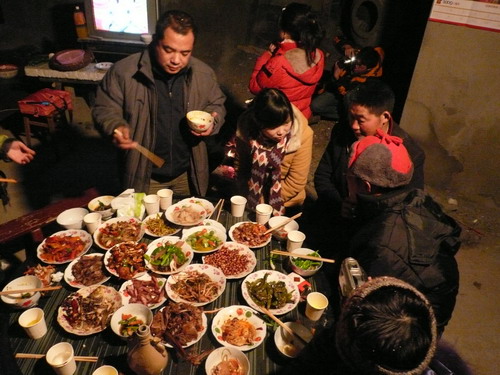 Stay up on New Year's Eve: the rural folk custom of northwest Hubei
They then worship ancestors. Men and children bring paper money, joss sticks, liquor, tobacco, and firecrackers to honor the memory of their ancestors at the cemetery.
According to tradition, people working outside their hometown such as migrant workers, traders or craftsmen will return home for the reunion dinner during New Year's Eve despite how far away they might be.
At noon, every family sets off firecrackers and starts the reunion dinner, a tradition that was set by ancestors. People from Huangzhou follow the ancient motto of, "having the reunion dinner in the middle of the night when cocks do not crow and dogs do not bark."
All members of the family sit around a table for the reunion dinner. As a rule, the elders sit in the respected seats, the juniors propose a toast wishing the elders good health and a long life. The elders in return wish the juniors everything well with their work and good luck. If guests happen to visit during the dinner time, the host will enthusiastically invite them to join the dinner.
During New Year's Eve in the rural areas of northwest Hubei, family members sit around charcoal fires to warm themselves, while watching the Spring Festival Gala on China Central Television. They will eat melon seeds, chat and drink tea. At midnight when the New Year's bell is tolled, all family members gather to set off firecrackers. This is done to, "raise the Celestial Star." Children are normally unable to stay up all night and will have gone to sleep earlier. The adults, however, stay up to keep watch on the last day of the year.