The torch of the 13th annual Hubei Provincial Games arrived in Yichang, home to the famous Three Gorges scenic spot, on Sunday as part of a 2,500-meter relay. The starting ceremony was held in the Peace Garden on Sunday morning.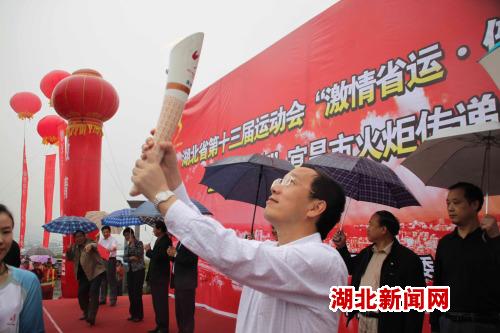 Yichang Mayor Li Lecheng holds the Hubei Provincial Games torch at the starting ceremony in Yichang in central China's Hubei province on Oct 10.
The Games will be held in Jingmen in central Hubei province on on Oct 19. The torch has been passed from runner to runner along three routes – the western Hebei eco-tourism zone, Energetic Cities Circle area and city of Jingmen – since Sept 9. The torch will arrive in the host city Oct 18 on the eve of the Games.
Yichang Mayor Li Lecheng received and passed the torch on Riverside Road, followed by thousands of officials, students, farmers and workers.
The main torch will be lit in the main stadium in Jingmen during the opening ceremony.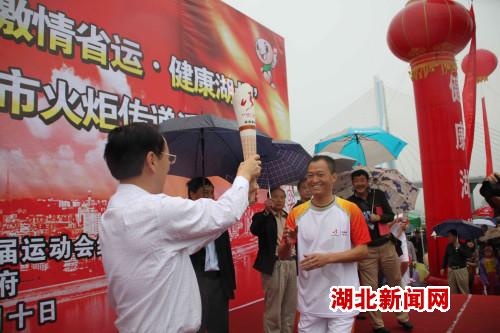 Yichang Mayor Li Lecheng hands the torch to one of the many torch bearers en route to the Hubei Provincial Games in Jingmen.