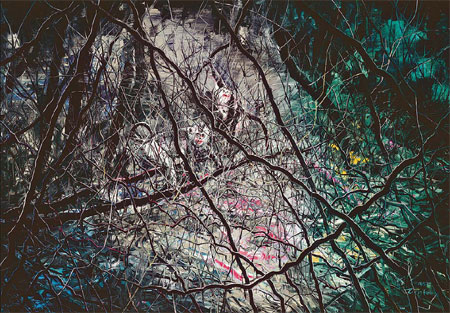 A painting created by Zeng Fanzhi during his "Jungle" period. Provided to China Daily
One of China's most successful artists is holding a confronting exhibition, Zhang Kun reports.
Zeng Fanzhi has become so successful that the media has become as fascinated with the record-breaking auction prices of his paintings as much as his preference for cigars and luxury brands.
Zeng, born in Wuhan in Hubei province in 1964, is most famous for his portrait paintings of men and women wearing masks. The fleshy masks look as if their faces are peeled off, making viewers wonder about the "real" face of the portrait subject.
In his latest exhibition at the Rockbund Art Museum, Zeng has turned to different subjects, painting jungle beasts and slaughtered animals. Also, for the first time, he has introduced sculptures rich in religious iconography.
But his theme tends to remain the same; his subject matter remains masked. In his sculptures, however, more is revealed, which raises questions about life and death, humanity and nature, and the temporal and spiritual world.
Zeng first established his name in the contemporary Chinese art scene with a series of paintings depicting scenes in a hospital, where fleshy human images lay helplessly on surgery tables, attended by doctors and nurses with huge eyes and hands. These early works vividly expressed a sense of silent anxiety and showed influences of German Expressionism.
A few years ago, Zeng suffered an injury to his right hand and for a time was forced to paint with his left hand, ending up with canvases filled with chaotic strokes. This brought his art to its "Jungle" period, where disarrayed strokes were used to create dense thickets, behind which hid animals, destroyed civilizations and human destiny.
Two of his Jungle paintings, each 10-meters long, occupy the second floor of his exhibition at the Rockbund Art Museum, while a painting depicting a slaughtered bull, bleeding and disemboweled, confronts audiences on the first floor.
Audiences go deeper into his jungle on the third floor, where monkeys and wolves peek at the viewer through the vegetation.
On the fourth floor you hear religious music and find yourself standing under two enormous tusks hanging high from the ceiling of the fifth floor. They are made from smooth and finely polished wood. "I felt peace of my mind polishing these tusks," Zeng told a critic. "I brushed lacquer paint on the surface again and again, and polished it after the paint dried up, again and again - it was like meditation."
Underneath the tusks, one finds an unfinished sculpture, shaped like a bed and covered in sheets. There are some bulges under the sheet, but they don't present any specific form.
Ten minutes walk from the museum is the Union Church, rebuilt after a fire in 2004. Zeng turned the Catholic church into part of his exhibition, rendering his previous paintings of elephants on the church windows. In the central altar area, he presents a sculpture of the Virgin Mary covered under a sheet.
Until Oct 12
Rockbund Art Museum, 20 Huqiu Road
Union Church, 107 Suzhou Road S
021-3310-9985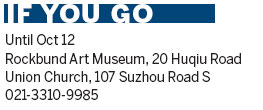 (China Daily 09/03/2010)