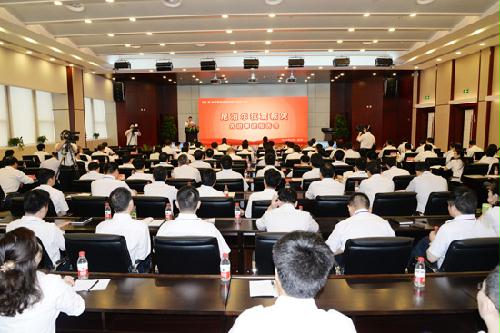 On May 20, 2015, CGGC Exemplary Deeds Report on Nepal Earthquake Relief was held in Wuhan. Nie Kai, Chairman of CGGC hosted the report. Fu Junxiong, Vice President of CGGC addressed his speech in the report. Present at the report are other senior executive officers of CGGC
All CGGC staff presented at the report watched the TV documentary Straighten Chinese Unyielding Backbone and listened to Zhang Hong, Wang Ziyang, GuoBingzhi, GaoXiaorui's exemplary deeds, which touched them with the power of true love.
President Nie Kai said at the report that the Nepal massive earthquake brought disasters to Nepalese, whilst offices and project departments of CGGC in Nepal also suffered from the catastrophe. Confronting with the disaster, CGGC was organized at the soonest time to fight against the massive destruction with Nepalese people under the leadship of CGGC and CEEC, demonstrating CGGC's ability to undertake social responsibility, thus earning wildly praises and building CGGC's good image.
All staff were moved by reporter's touching stories, many of them said they will carry forward the spirits in earthquake relief and bravely overcome difficulties to achieve CGGC's leaping development.