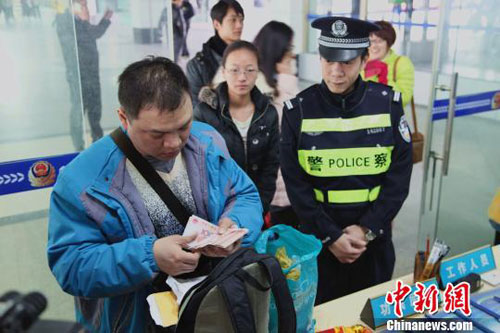 Mr Weng checks his personal belongings in the backpack. [Photo/chinanews.com]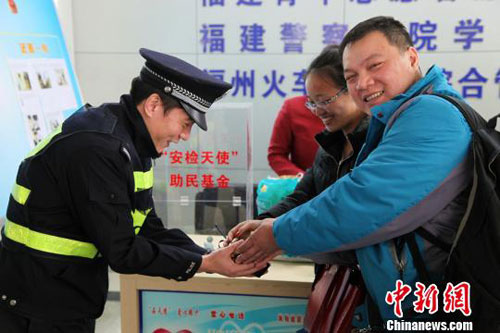 Mr Weng expresses his gratitude to the policeman with his newly-wedded wife from Fuzhou.  [Photo/chinanews.com]
Mr Weng from Taiwan sent a silk thank-you banner to the Fuzhou railway police on Feb 8 to express his gratitude for them finding his lost luggage, chinanews.com reported.
Weng lost his backpack with important personal belongings valued over 25,000 yuan ($4,000) at Fuzhou Railway Station on the afternoon of Feb 5. He reported to the police as soon as he found out that his backpack was missing.
After watching the surveillance video, the police found the backpack which was snatched up by a woman, who they found out boarded on another train from Fuzhou to Qingdao. They soon contacted the transport police on that train. But, by then, the backpack was over 200 kilometers away from Fuzhou already.
But the police managed to identify the woman on the train and caught her with the backpack with all items still in the bag. It was eventually sent back to Fuzhou and handed over to Mr Weng on the noon of Feb 6.