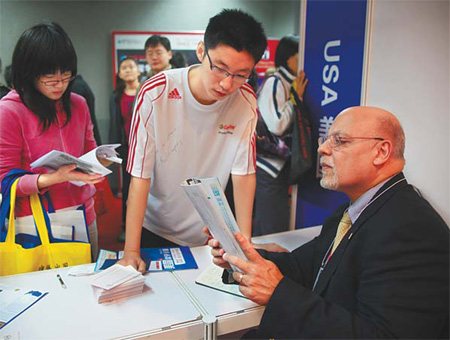 A potential applicant consults a school representative at China Education Expo. Wang Jing
Foreign participants in the China Education Expo in Beijing has expressed concerns that the admission of too many Chinese students into one education program may reduce their chances of developing an international perspective necessary to compete in an increasingly interconnected world.
Anselm Vermeulen, senior lecturer from Rotterdam Business School, said that the school looks for Chinese students, but also limits the number it accepts for each program.
"We want to ensure the education quality, provide the globalized environment for Chinese students, and encourage them to interact with local community," said Vermeulen.
Drs J. Brouwer, who represents the Hague University of Applied Science in the exhibition, praised Chinese students as "disciplined, friendly, well-behaved, and quiet."
However, he said Chinese students abroad can also be shy, and often socialize with themselves. In his view, this can make it difficult for them to interact with their local environment.
The Hague University, which takes over 100 students from the Chinese mainland every year, provides a specially designed program for Chinese students to help them develop communication and critical thinking skills and promote awareness of cultural diversity.
Jeffrey Nonemaker, director of International Student Recruitment and Admissions at University of La Verne, California, said that his school focused on the quality not quantity of Chinese students in its admission decisions.
La Verne makes sure that all international students, including Chinese students, live with a roommate from a different nationality, and usually pairs international students with domestic students.
However, Nonemaker said, the university has no control over whom students choose to live with off campus.
The expo also included an exhibition of public universities in Switzerland with an emphasis on hotel and tourism management programs.
Christine Kyburz, deputy head of the Swiss Embassy's science, education and health section, said that she had seen a survey recently and was surprised by the large number of Chinese students who have studied or are studying in Switzerland.
"Considering this development, some programs are fully taught in English to provide a better environment for Chinese students," she said.
Kyburz also said that an increasing number of Chinese students are now going to Switzerland to study. The embassy has received between 2,000 and 3,000 student visa applications so far this year, she added.
There are concerns, however, that having too many Chinese students dilutes the experience of overseas study.
Some Chinese students who transferred from one country to Switzerland once told her that 80 percent of their previous classmates were Chinese, Kyburz said.
That's very bad for developing language or communication skills, she continued, declining to name the country in question.
To get more Chinese students involved in their communities overseas, help them find friends, and expand their perspectives are the main concerns of the education authorities in Switzerland, according to Kyburz.
She also said that the undergoing financial crisis has not affected the Chinese students' interest or financial capacity in studying abroad.
In part, she said, this is because Chinese parents want their children to have the best education and are willing to spend the necessary money on educational programs.
Li Xin, a representative of Florida Southern College, said that he can give conditional admissions to students and even offer scholarships at the expo.
"We have received about 400 Chinese applicants during two days, and we only have offer for 40 students. With more applicants, we certainly can choose the best students," he said.
Vermeulen said that most of foreign universities use recruitment agencies to find Chinese students because they can help select the most suitable candidates.
But Budapest-based Central European University (CEU) plans to rely more on its alumni network and cooperation programs with Chinese universities, Adrienn Kss, the school's recruitment coordinator, said.
Currently, there are only 13 Chinese students in CEU and most of them study environmental sciences.
"For a university with students from 100 countries and regions, the Chinese students will not have the feeling of home, and this certainly will broaden their vision," Kss said.
More than 500 foreign universities and colleges from 30 countries participated in the Expo. The expo is touring cities including Wuhan, Shanghai, Chengdu and Guangzhou before concluding on Nov 1.
(China Daily 10/23/2009 page28)