After six years in Beijing, Sandeep Bahl's tastes have switched from curry to hot pot, from coffee to green tea and from cricket to badminton.
Northwest Airlines, the company which he works for, was also transformed when Delta acquired it to make itself the largest air carrier in the world.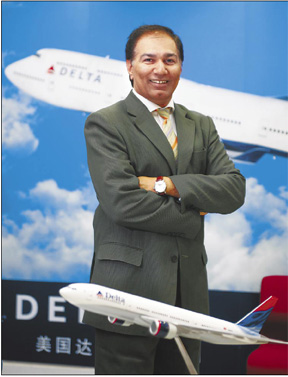 Sandeep Bahl, chief representative of Delta Airlines in China, in his office. Wang Jing
Now as the chief representative of Delta Airlines in China, the India-born Australian has expanded his interests to include a clear understanding of guanxi, the Chinese custom of personal connections and networking.
"It means deep, long-term - even ever-lasting - relationships in which people trust and respect each other to maintain mutual benefit and harmony," Bahl said from his triangular-shaped office, coincidentally the same shape as Delta's logo.
To improve his own network, Bahl took chief executive courses at Cheung Kong Graduate School of Business last year in Shanghai and Sanya that were tailored to meet the needs of operation in China.
His studies included liquor-maker Moutai's business model and newly released labor and anti-trust laws.
But they were not his first postgraduate courses. In 1999 Bahl joined Oxford Brooks University to study travel and hospitality management and in 2005 completed an MBA from the same university.
His coursework provided expertise in general business and finance, but he said the Cheung Kong experience offered specific guidance for doing business in China.
The meaning of his name in Sanskrit, an ancient Indian language, is "learning and teaching", which he said was a fashionable name in his generation. This seems in his case an accurate characterization. "I'm always ready and still open for learning on and off campus," the 46-year-old said.
His intellectual curiosity and pleasant personality have enabled him to ascend the career ladder, he said.
Bahl started as a chef with Hyatt Hotel in New Delhi in 1984 after he graduated from college in India. But he quickly became a senior management trainee for Air India's hotel and in-flight subsidiary group based in Bombay.
He recalled that he had cooked all kinds of food including Italian, French, Indian, Chinese and other cuisines.
Then he became even more curious about different cultures and peoples, wondering "how big is our world and how different is it?"
So the young Bahl found his own shortcut to globalization - working for airlines. "Airlines will get me there very fast," he said.
His 10-year work in Australia for Qantas was followed by a series of shorter stints in New Zealand, Hong Kong and Japan before he arrived in China in 2003.
"Then I got stuck here," he said. "I got to love and enjoy it in China."
He joined Northwest Airlines in 2003.
When it was acquired by Delta in a $2.6 billion deal in 2008, Northwest Airlines helped Delta to become the world's largest airline in terms of global network size, number of planes, daily flights and passengers.
"Northwest has good network in the US midwest region, while Delta has well-knit networks in the US north and south and in Europe as well," he said.
The combination makes what he called super Delta.
He also used this merger case to explain the core of doing business.
"Managing your cost is the most essential part to get profitable," he said.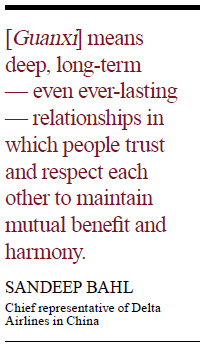 He added that it's not necessary to get involved in or set up subsidiary low-budget airlines amid the economic downturn though some low-budget airlines have shown excellent performances during the gloomy economic situation.
Though Tokyo serves as Delta's hub for the Asia-Pacific region, the airline now has four flights a day from both Beijing and Shanghai.
Bahl said Beijing always has the possibility of becoming a hub if the government gives necessary approvals.
"Access is more of a government issue than for a single carrier," he said.
As father of two girls, 15 and 7, with the youngest able to speak Chinese, Bahl said he likes to cook for them whenever he has the time.
Being a busy businessman, he has to learn how to make work a part of life. However, he said that he always bears in mind to keep work away from his wife.
Bahl said learning how to balance work and his personal life is really the toughest part of life.
"If you're with the family too long, they complain; if you are with them too short, they complain," he said.
(China Daily 10/22/2009 page28)