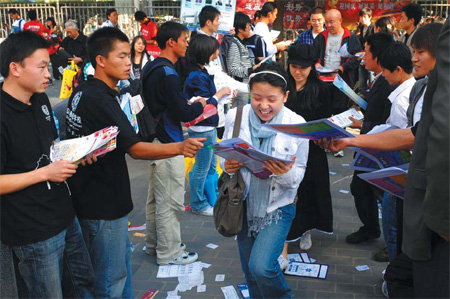 Workers with intermediary agents distribute brochures to students at the Education Expo on Saturday. [Zhao Jing/China Daily]

Recruitment agencies claiming to help Chinese students study abroad have been hurt by scams of a few operators, some western universities say.

Gene MacDonald, marketing associate at Thompson Rivers University in British Columbia, said he had promoted the university in China for the last three years and had been burned by agents, who work on commission basis and act as a liaison between the school and the student.

"While 15 percent of the first year's tuition is the industry standard for an agent's commission (another university) might be paying 20, even 30 percent. In that case, the agent's likely to work harder to promote that school because there's more in it for them," said MacDonald.

MacDonald was among representatives from 500 international educational institutions at last weekend's China's Education Expo, which was attended by about 30,000 students.

Jay Titus, dean of admissions at Mount Ida College, in Newton, Massachusetts, told METRO that he was told by the organizer that they were going to be strict about agent presence, but estimated "about 30 to 40 percent of the contact I've had with people this weekend has been with agents."

"China is such a sought-after market, and the admissions counselors and enrollment managers at US institutions are really looking to work with students," Titus said. "They have resources, and these days you can do it all online. If students do it directly, they can bypass the agents."

MacDonald said parents and students were also impacted.

"Since commissions are only paid for the first year, agents will often try to persuade parents to transfer their child to a 'better' school," he said. "If they succeed, they get an additional commission from a single student."

"Unfortunately, the client has no knowledge of this and is vulnerable to the double impact of a greedy agent and a poor quality institution," he said.

Rick Henegar, director of graduate admissions at Middle Tennessee State University, said he was reluctant to have his photo taken because he had concerns about how his image and that of the school would be used.

He said some unwitting agents had used photos without permission in brochures and promotional materials.

Related readings:


 Oversea education is overrated, rich chinese are wasting money..


 Oversea students suspend the plan to go back to China?


 600 overseas unis to take part in education expo


 40% top Chinese students choose to study abroad


 China to fund more scholars to study abroad


However, Garry Dyck, director of the English language center at University of Manitoba, said good agents were a valuable resource: "There are a lot of students looking to leave and you need agencies that will find and follow those high-caliber students. It's tough."

The Expo's executive organizer Cui Ying said that there was not much they could do about the number of agents in attendance.

Agents with official collaborations with schools were "selected very carefully," and required to "provide proof from the university before getting admission from us."

Jiang Hong, a senior at Beijing Union University, said she was aware of these kinds of incidents.

"The Expo is a start, but it's only one source," she said. "I did a lot of research before coming here, and when I go home I will send e-mails to the schools I'm interested in and get more information," which is exactly what the schools, when asked, encouraged parents and students to do.

From 2007 to 2008, a total of 81,127 Chinese studied at US higher education institutions, an increase of 19.8 percent from 2006, the Institute of International Education said.