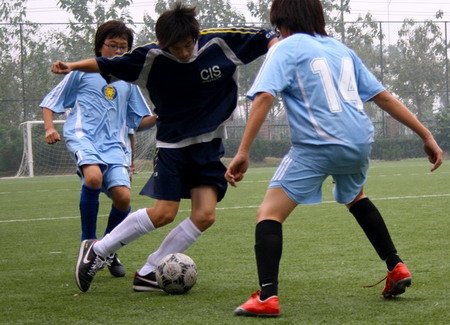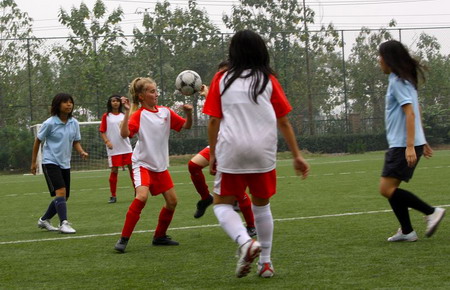 The junior boys and girls team headed out for a meeting with the Tianjin (Rego) International School for a football game. The bus left at 8:00 and headed for the South Railway station and the team boarded the "Bullet Train" on the 330 km/hr trip arriving in a mere 30 minutes.
The girls played a spirited and aggressive game and in the end were rewarded with a 3 - 0 victory. The forwards attacked with authority and the defenders kept the Tianjin team from mounting any sustained attack. Much of the play was kept in the Tianjin side of the field and the girls adjusted to a nine per side game and a much larger field.
The boy's game was a different story. The Tianjin team showed how the wider and longer field can be used to advantage by repeatedly tossing passes to the outside and using the extra space to create attacks. They went up 1-0. However, the Bobcats tied it very quickly on a well-hit ball.
The second half saw the Lions take a two goal advantage while catching the forwards and defense napping with a series of long and accurate passes. The final five minutes were brimming with action as the Bobcats fought to tie the game. A goal with about 5 minutes remain kept the hope alive and with 5 seconds remaining an chip over the goalie's head saw the score knotted at 3 and sealed the comeback for the CISB Bobcats.
The trip back to Beijing saw a satisfied group of athletes settle in and relax. A victory and a tie on the road are good results.