The Annual Report on Automotive Industry in China (2013), also named the 2013 Blue Book of Automotive Industry, was released on July 17 in Beijing. It is the sixth report on China's automotive industry released by the Development Research Center of the State Council, the Society of Automotive Engineers of China and Volkswagen China since 2008.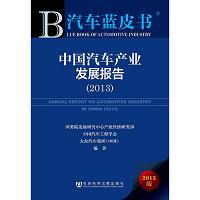 ISBN: 9787509747865
Publisher: Social Science Academic Press
Issued: July 2013

Themed "Internationalization of China's Automobile Industry," the report not only elaborates on the necessity and importance of joint investment and cooperation, but also outlines the status quo and the future of the "go global" movement in the Chinese automobile industry.
Feng Fei, director-general of the Research Department of Industrial Economy of the Development Research Center of the State Council, said that with economic globalization, open cooperation is an unavoidable choice for automobile industries in every country in the world.
Since China's entry into the WTO, attracting foreign investment and opening the Chinese automobile industry are an important step for the development of China's industrial economy, Feng said, adding that it has been proven that open competition has brought a win-win situation to China's automobile sector over the past 10 years. Foreign-funded enterprises benefited, and at the same time, their advanced management and product development concepts have boosted technological advancements in domestic enterprises.
New opportunities and challenges face joint investment and cooperation development thanks to the changing economic situation inside and outside China. The Chinese automobile industry needs to maintain stable development in a more open environment during the sector's transformation and upgrading, said Feng.