One of the great delights of Xian is the way in which our ancient culture blends with the new in order to give the visitor a memorable experience of life in the city both as it was long ago and as it is today.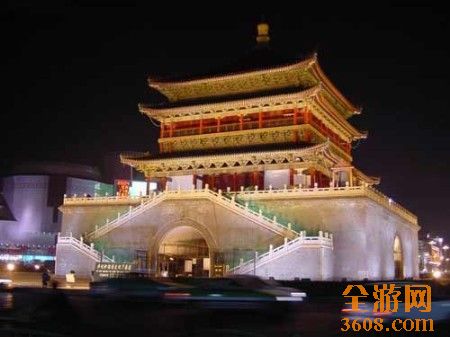 A good place to start your exploration is the Bell Tower as it stands in the historical center of the city and is adjacent to the flourishing modern commercial district. In the evening both the Bell Tower and Drum Tower are illuminated and provide a striking setting for the myriad of traditional Chinese restaurants and bright modern shopping malls where with a riot of color and movement the neon lights together with the street lighting present a veritable magical picture. As the bell tolls in the Bell Tower you can imagine yourself standing in the city as it was centuries ago.
As you stroll on the Bell & Drum Tower Square you will encounter many fellow pedestrians, who like you will be enjoying the spectacle of light and color against the dark blue dome of the night sky. Pass through the gate of the Drum Tower and the appetizing aroma of food will tempt your senses. Here you will find Muslim Snack Street a location famous for its many and varied restaurants, each with its own specialty dishes. Here you will be sure to find something that will appeal to your taste buds from the many novel and captivating dishes on offer.
Once your appetite has been satisfied you may wish to find a place to relax with a drink and if it is a quiet and romantic setting you desire, then wander along De Fu Xiang. Along this lane there are over twenty bars, cafes and teahouses. Each has a distinct style and an intriguing name such as Roman Holiday, Blue Heart, Captain, Old Tree, etc. An archway signifies the entrance to the lane and can be found on Fen Xiang, Nan Dajie. For a dozen of Carlsberg, Heineken, Budweiser or local Tsingtao beer may cost about 150 to 300 Yuan.
If you wish to go to a movie, A Pang Gong Cinema is close to the Drum Tower at No. 61 Zhubashi Jie. In addition there is another cinema at No.323 Dong Dajie. This is Northwest Film City and is some 500 meters to the east of the Bell Tower. Cinema tickets in Xian are inexpensive. Generally speaking, it will cost you between 20 and 30 Yuan to see a film. It is a great pity that films are seldom shown in English and are dubbed into Chinese. Never the less, if you are interested in improving your command of Chinese, what better way can there be to learn more of our language!