The renovation of Daming Palace National Heritage Park was listed among the key projects of the Eleventh Five Year Plan. In July, 2007, Xi'an Municipal Committee and Xi'an Municipal Government appointed Xi'an Qujiang New Zone, a State-level Cultural Industrial Demonstration Zone, to be responsible for the renovation project of Daming Palace.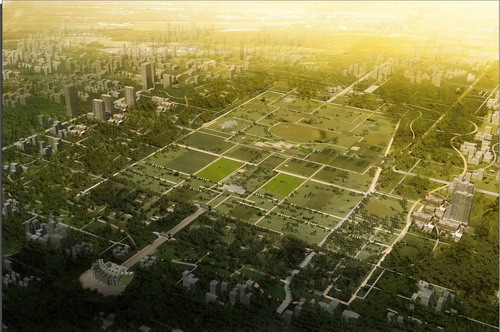 Coverage
Daming Palace National Heritage Park, once reconstructed, will cover 19.16 square kilometers:
The northern end: Huanyuanzhong Road -Taihuabei Road - North Second Ring Road;
The southern end: Huanchengbei Road - Huaqingxi Road;
The western end: Weiyang Road - Hongmiaopo Road - Xinghuo Road;
The eastern end: the northen extension of East Second Ring Road- East Second Ring Road
Layout
The Park has a layout officially described by the phrase, "One Center, Two Wings, Three Circles and Six Areas".
"One center" refers to Daming Palace National Heritage Park; "two wings" are two city renovation plates in the west and east, with railway station north square as its axle center and along Longhai Route; "three circles" are three business circles in Weiyang Road, Taihua Road, and North Second Ring Road; and "six areas" are named cultural tourism area, trade and service area, business core area, demonstration area, central living area and resettlement area respectively.
Principle
The project aims to build Daming Place into a new urban zone with international standards, featuring well-perserved relics and cultures from the Tang Dynasty. Visitors are expected to enjoy various services regarding culture, tourism, business and trade, dwelling as well as recreation.
The project is guided by five principles: combining relics protection with improvement of human living standards; combining relics protection with the appliction for the title of World Cultural Heritage; combining government leadership with market operations; effective protection of cultural resources and reasonable utilization; and developing national spirits and promoting culture and tourism industries.