Burial pits surrounding the mausoleum
Can you believe the emperor was buried with the whole of the Qin Empire?
Over 100 satellite burial pits and tombs, both large and small, have so far been unearthed. The largest and most attractive is undoubtedly the one housing the Qin terracotta army. About 8,000 life-size terracotta warriors and horses, covering an area of over 20,000 sq m, were built to protect the emperor in the afterlife.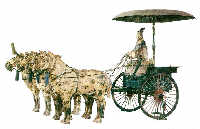 Restored Painted Bronze Chariots
Another well-known pit is the one holding two sets of painted bronze chariots. The half life-size burial articles are believed to be deluxe sedans for the emperor to go on inspection tours in his afterlife. They were originally painted in exquisite colors and appeared much more magnificent than they look today.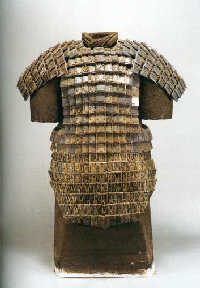 The Restored Stone Armor Suit
A rectangular pit containing stone armor suits was unearthed some 200 m southeast of the grave mound. The armor was made of stone flakes and intended as burial articles rather than for practical use. Tests show it would take a worker between about 350 and 450 days to make a suit of armor with 600 stone pieces if he worked eight hours per day, excluding preparation time. In Xinfeng town, six kilometers north of the mausoleum, materials, tools and semi-finished stone armors have been discovered, suggesting it was an armor-processing site.
The emperor remembered to bring his civilian officials with him into the next life and a special burial pit for them. The pottery figures' costumes and headgear reveal they were Emperor Qin's high-ranking civilian officials. They do not carry any weapons, but each has a knife and sharpener at their waist which was used to scrape off incorrect writing inscribed on wood or bamboo in the days before paper was invented. Four yues (similar to tomahawks) symbolizing imperial power to punish disobedient workers were unearthed in this pit.
A newly discovered pit containing pottery acrobats and a bronze tripod tells us there was more to the emperor's life than political affairs. Clad in short skirts, the life-size figures vary in postures as if they were performing on the stage, and are more active and expressive than the terracotta warriors. They might be modeled after the acrobats who served in the imperial palace to entertain the emperor. The unearthed bronze tripod (ding), delicately shaped with rich, fluid and beautiful patterns, was probably a sacrificial vessel.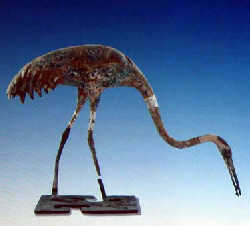 Thirty-one pits containing bones of rare animals have been discovered, indicating the emperor was also fond of hunting. Each pit contains a kneeling pottery figure with a pottery basin or jar lying in front showing they were attending these animals. A pit of bronze water birds is thought to be the emperor's underground amusement park.
Mausoleum workers included criminals, unpaid peasants, craftsmen and slaves. A huge burial pit covering over 1,000 sq m and full of a thick layer of bones was discovered in a village near the mausoleum. That was the end result for many of the builders.
The tomb's construction required a lot of stones. Under primitive conditions without modem transportation, it was a gigantic task to push, pull and move the large stones. In a village northwest of the mausoleum, iron fetters, iron hammers and semi-finished stones were discovered, indicating that it was a stone-processing site.
An embankment about 3,500 m long and 40 m wide was built between the Mt. Lishan and the mausoleum to divert water from the mountain to the Weihe River and protect the tomb and the burial pits from water.
The mausoleum seems to depict the whole of the China in miniature. For anyone who wants to know more about China's past, this splendid necropolis is definitely not to be missed.