China Intellectual Property
Invention patent filings break record of 1 million
By Wang Xin (China Daily)
Updated: 2016-01-20
---
China received more than 1 million applications for invention patents in 2015, setting a new record high in annual filings and retaining its No 1 world ranking for the fifth consecutive year, according to the State Intellectual Property Office.
Invention patent applications filed with SIPO increased nearly 20 percent to more than 1.1 million last year, Gong Yalin, director of SIPO's planning and development department, said at a news conference last week.
It was the first time annual filings surpassed the benchmark of 1 million in the country, Gong said.
In the same year, SIPO granted about 359,000 invention patents, 263,000 of which were filed by domestic applicants, a 61.9 percent jump or 100,000 more than in 2014, with 60.2 percent from companies.
Zheng Huifen, an official in charge of patent examination with SIPO, said that increasingly improved patent applications driven by growing innovation capacity across the country partially explain the marked growth in patents granted last year.
In addition, increased efficiency in processing the applications is material to the growth, with the average processing period for invention patents reduced to around 22 months and three months for another two types of patents - industrial designs and utility models, Zheng said.
Additional processing centers built over the past five years in Jiangsu, Guangdong, Henan, Hubei and Sichuan provinces as well as Tianjin also contributed to the improvement, she added.
Jiangsu ranked first among the provincial economies on the Chinese mainland in terms of invention patents granted last year, followed by Beijing and Guangdong.
In total patent inventory, Guangdong topped the mainland ranking, with Beijing taking second place and Jiangsu, third.
Behind Guangdong's leading position is a dynamic business community in the province.
Among the top 10 mainland company winners of invention patents granted in 2015, half are headquartered in Shenzhen, Guangdong province, four from Beijing - with Sinopec at the top of the list - and one based in Changsha, the capital of Hunan province.
Five of the top 10 winners were also among the 10 largest Chinese company applicants of international patents filed through the Patent Cooperation Treaty in 2015, with telecom giant Huawei Technologies leading the list.
The total number of PCT filings from China increased 16.7 percent to more than 30,500 in 2015, 93 percent of which were from Chinese companies and individuals.
For PCT rankings of provincial economies on the Chinese mainland last year, Guangdong again took first place. Jiangsu ranked third after Beijing. Shanghai and its neighbor Jiangsu held the fourth and fifth positions. The five accounted for nearly 85 percent of the national total annual PCT filings.
Despite such rapid growth, Chinese applicants still lag behind in such sectors as optics, engines, transport and semiconductors, Gong said.
wangxin@chinadaily.com.cn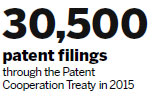 Steve Jobs died the month that the latest Nobel Prize winners were announced. The coincidence lends itself to speculation about inevitability.