White paper grapples with increasing online IP crimes
By Wang Hongyi In Shanghai (China Daily)
Updated: 2015-07-22
---
With the continued development of the Internet and wider use of personal mobile devices, online platforms have become a new tool and place for intellectual property rights crime, according to a white paper recently released by the Shanghai Pudong district procuratorate.
The white paper for 2010 to 2014 period said criminal cases of infringing upon intellectual property rights keep increasing each year. With the rapid development of the Internet, crimes such as selling goods with counterfeit trademarks and counterfeiting trademarks are particularly acute.
One case in the white paper relates that a farmer with only a junior middle school education profited up to 2.6 million yuan ($419,000) within a year by setting up a one-stop Internet company providing private servers for popular online games.
In order to promote the site, the company illegally copied an operating system. It not only provided an online download site, but also offered 1.27 million copies of pirated CDs to computer malls of 286 cities in 29 provinces and municipalities, earning illegal profits of more than 23 million yuan.
Officials said this was a typical intellectual property rights infringement crime using the Internet.
The white paper also said Taobao, the country's largest online shopping platform, is a major place for online infringements of intellectual property rights. Besides that, a growing number of criminals advertise on WeChat, China's most popular mobile messaging app.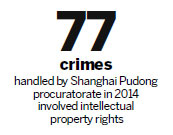 According to statistics, online sales of counterfeit trademarked goods mainly comprise of clothing, bags, shoes and watches, and involve many international brands. The buyers are usually ordinary workers keen to chase such international brands. They purchase the counterfeit goods knowing they are not genuine.
The white paper also said that the impact of intellectual property rights infringements has rapidly increased with the popularization of online information technology. In cases of copyright infringement, for example, users can send digital works to other users via the Internet. They can also copy works and upload them online directly, for any other users to browse and download.
The popularity of smartphones and various apps and the wider use of cloud computing has brought a series of serious challenges to uncover evidence and accurately judge new online crimes, officials said.
In addition, intellectual property rights crimes via the Internet often involve multiple links. They are often well organized with a clear labor division and can easily form a crime chain, which allows the crime to become increasingly specialized, organized and systematic, according to the white paper.
Faced with such characteristics of online intellectual property rights infringements, the white paper suggests intensifying powers to suppress infringers and stricter supervision of intermediary links. It added that to improve intellectual property rights protection, a comprehensive network for preventing and controlling online intellectual property rights crimes should be established.
Since 2014, the Shanghai Pudong district procuratorate has dealt with 77 intellectual property right crime cases, including one copyright infringement using a mobile phone app, which was the first of its kind in the country.
wanghongyi@chinadaily.com.cn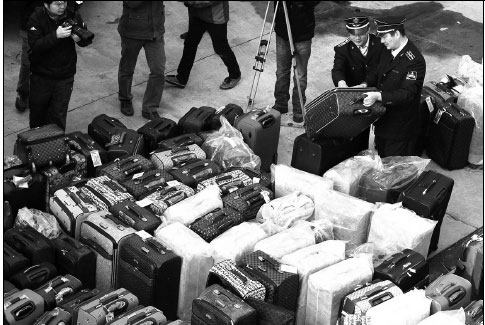 Law enforcement officers from Shanghai's quality supervision authority confiscate a shipment of counterfeit bags and suitcases.Wang Chen / For China Daily
(China Daily 07/22/2015 page17)
Steve Jobs died the month that the latest Nobel Prize winners were announced. The coincidence lends itself to speculation about inevitability.