China Intellectual Property
Demand for luxury sees counterfeit imports rise
By Zhuan Ti (China Daily)
Updated: 2014-08-08
---
China has started to see a growing number of counterfeit brands imported in recent years, said a senior official at the General Administration of Customs.
Rising labor costs in the domestic market and increasing demand for brand luxuries partially explain the new phenomenon, Li Qunying, chief of the IP Division of the Department of Laws and Regulations, said at an international intellectual property environment forum in Beijing last Friday.
He cited last year's seizure of counterfeits carrying the UK luxury brand Burberry as an example. Customs officials found that the four shipments imported from Turkey were intended for sale in discount stores, rather than online shops conventionally stereotyped as a destination more vulnerable to fakes.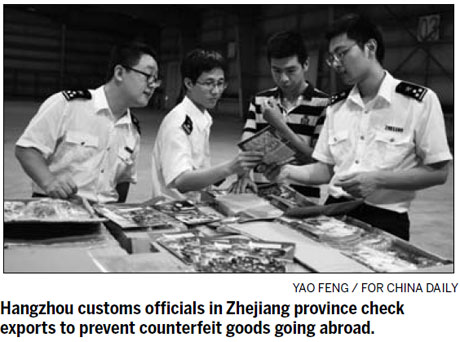 The shipments were declared at customs to the value of authentic goods, "a disguise making the infringement harder to detect", he said.
Some argued that checking fakes in foreign trade should be the obligation of customs in the import country but "China has long put emphasis on control of infringing goods in export" Li said.
The director said that the efforts reflected the country's attitude as a responsible stakeholder as it rises in the international arena.
As a tool for national trade policy, customs also play an active role in IP protection, he said. "We can provide infringement evidence and clues to the police and at the same time help trace the source of counterfeit exporters and importers."
Directly under the State Council, customs across the country have unified standards for enforcement, which averts local protectionism.
Administration at a given number of large ports also allows for convenience and efficiency in enforcement on borders, he said.
"Customs data is considered as a barometer of an IP environment," he noted. Each customs official checks about 1,000 shipments every day in Shanghai and Shenzhen customs officials pass through a truck every 10 seconds.
Enforcement reports released by overseas customs, including those in the United States and the European Union, defined China as a major source of counterfeits and put mounting pressure on the Chinese government.
Though the infringing goods are a small section, in contrast with China's huge volume of foreign trade, which surpassed $4.16 trillion in 2013, labor-intensive products that remain as a major part of the exports make it easier to copycat, Li said.
Increasing the proportion of high-tech products in exports is expected to help change the situation, he indicated.
He said inaccuracy in statistics was another reason for the high ranking in infringing exports. He cited the EU 2012 report as an example. He said about one third of customs seizures should not have been labeled as counterfeits from China as they included goods that turned out to be legal and shipments pending court decisions.
Overseas orders also contributed to infringements in exports, he said.
"When people complain about the inflows of infringing products from China, they do not realize the demand in local markets as well as distribution channels or sales outlets," he noted. "The context of the global issue requires enhanced cooperation with our foreign peers and international organizations."
Some Chinese manufacturers, especially small businesses, are ignorant about infringements as they make deliveries in accordance with orders from abroad. They do not confirm if their clients have authorization due to lack of IP awareness or if they do they often receive fabricated documents in reply, Li said.
From more than 1,300 infringing shipments detected by customs nationwide in 2008, 560 resulted from overseas orders, about 42 percent of the total. In 2009, about a quarter of infringing shipments handled by customs were due to the same reason, according to Chinese media reports.
Li called on agencies and government departments to help export-oriented manufacturers develop expertise in judgment when dealing with overseas orders.
The State Intellectual Property Office hosted the IP forum for the third time, after events in 2010 and 2012. This year the meeting also addressed issues including the overseas alternative dispute resolution and the due diligence in going public, mergers and acquisitions.
zhuanti@chinadaily.com.cn
(China Daily 07/23/2014 page17)
Steve Jobs died the month that the latest Nobel Prize winners were announced. The coincidence lends itself to speculation about inevitability.