Free-trade zone stands at cutting edge of IP policy
By Zhang Zhao (China Daily)
Updated: 2014-03-05
---
Although the free-trade zone in Shanghai only accounts for less than 0.5 percent of the city's area, it has begun making a name for itself since it was established last September for its pilot policies and systems, including innovations in the field of intellectual property.
Lyu Guoqiang, head of the Shanghai intellectual property office, told China Intellectual Property News that they have not seen many challenges in the IP system so far, but they "may emerge in the future as the zone operates".
So, the city's IP authority will "keep an eye on the global development trend of IP, study related international treaties and borrow experience from other free-trade zones in the world", he said.
There are two kinds of IP administrations in the zone, said Lyu. One is made up of independent agencies, including customs, police and quality supervision administration. The other is collective bodies, such as the administrative committee and the FTZ comprehensive enforcement bureau, which are entrusted with patent, trademark and copyright issues as well as other IP-related affairs.
"While we improve the collective IP management in the zone, we will also pay equal attention to the management outside it," said Lyu.
According to the local government's IP strategy, Shanghai will be built into an IP hub for the Asia-Pacific region by 2020.
"The FTZ is a pilot zone with reformed economic, supervising and administrative systems," said Zhang Lei, a professor at the Shanghai University of International Business and Economics. "It will create a free and open market environment that caters to global common practice and encourages innovation."
With increasing demand for trade and service in IP, overseas IP agencies will open offices in Shanghai offering services such as IP application, operation, negotiation and lawsuit, which will be a challenge for Chinese IP service providers, said Xu Ming, a researcher at the IP Research Center in East China University of Science and Technology.
But Xu added that the international competitors will also provide opportunities for domestic agencies to learn advanced service concepts and models.
When IP-related disputes occur in the zone, there are multiple choices of solution beside the legal approach, said Lyu.
"There are judicial protection and administrative protection," he explained. "And we also encourage the third-party mechanism to solve IP disputes."
Among the more than 100 civil lawsuits that have been filed in the FTZ since its establishment, five were IP cases, including four trademark disputes, said Bao Lei, a judge of Pudong New Area court's FTZ division.
"Due to the professional and technical nature, IP cases feature complexity and long hearing procedures," said Bao, who called for diverse ways to solve them, including mediation and arbitration.
Founded on Nov 20, 2013, the FTZ International Commercial Mediation Joint Court is a non-governmental third-party mediation mechanism that employs a group of top IP experts as part-time mediators.
"In the next three years, financing and IP will be two of the fields in the FTZ with the most disputes, and mediation is the most economical and efficient way to solve IP disputes," said You Minjian, director of the court and a local IP lawyer.
zhangzhao@chinadaily.com.cn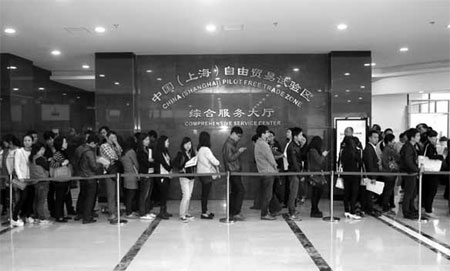 People wait in line for business or consultation at the comprehensive service center in the Shanghai free-trade zone. Xu Congjun / for China Daily
(China Daily 03/05/2014 page17)
Steve Jobs died the month that the latest Nobel Prize winners were announced. The coincidence lends itself to speculation about inevitability.