China Intellectual Property
Micro blogs: Few words but full legal protection
By Zhang Zhao (China Daily)
Updated: 2013-05-29
---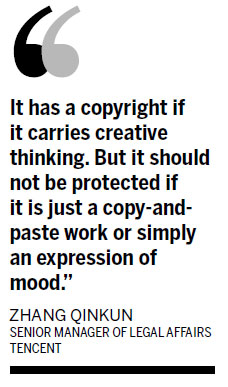 Even though they have at most just 140 Chinese characters, original micro blog entries are protected by copyright and reposting them without authorization is infringement, said judges and delegates from major domestic micro blog operators at a recent seminar in Beijing.
In the first quarter of this year, one of the nation's top micro blog operators Sina Weibo received more than 1,500 online complaints from users along with 60 letters from lawyers about infringement. But that is "merely the tip of the iceberg", said industry insiders.
Zhang Qinkun, senior manager of legal affairs at Tencent, another influential micro blog operator, told Guangming Daily that there is huge potential for infringement on micro blogs due to their wide range and high speed.
He said micro blog content is protected by copyright law if "it expresses an original idea".
"It has a copyright if it carries creative thinking," he said. "But it should not be protected if it is just a copy-and-paste work or simply an expression of mood."
Zhang Ping, a professor of law at Peking University, noted that "talented people can create a literary work in just 140 characters and the value of the content stirs other users' interest to repost it".
"Generally speaking, it does not constitute infringement if you notify the source."
The micro blogs of celebrities "are obviously more often infringed upon", experts said. Famous fairytale writer Zheng Yuanjie complained on his micro blog in 2011 that much of the original content on his site was copied.
Kaifu Lee, former head of Google China whose postings are widely followed even internationally, said that his micro blog was also "copied completely many times with the source seldom credited".
Mu Ying, a judge at the First Intermediate People's Court of Beijing, added that the number of Chinese characters used "cannot decide if the content has a copyright".
"In some cases, even an advertisement shorter than a micro blog post has a copyright," she said. "What can be recognized as protected work in a micro blog includes not only words, but also pictures, video and audio materials."
Nearly 70 percent of the content posted on Sina Weibo every day contains pictures, according to the company's legal affairs specialist Zhang Zhe.
Industry insiders said that most original authors have stayed silent when their copyrights have been violated, with some reaching reconciliation with infringers. Very few have resorted to legal remedies, they noted.
The incentive for the copyright owners to protect their rights is low because of low compensation, they noted.
Last year the famous photo stock agency Getty Images China sued Guangdong-based furniture maker Oppein Home Group over copyrighted photos used in a micro blog without authorization. After a monthlong trial, Getty was warded just 1,000 yuan ($163).
"The micro blog is not a free lunch," said Judge Mu. "A balance must be reached between the protection of copyright and promoting communication."
She called for greater compensation "considering the influence of micro blog content".
She also suggested that operators improve protocols to clarify user rights and obligations, and help provide evidence for legal owners.
zhangzhao@chinadaily.com.cn
(China Daily 05/29/2013 page17)
Steve Jobs died the month that the latest Nobel Prize winners were announced. The coincidence lends itself to speculation about inevitability.